Charting the Economy
Timely economic data curated by research staff at the Federal Reserve Bank of Kansas City.
August 31, 2023
By Jason P. Brown, David Rodziewicz, and Colton Tousey
Sharp Gains in Drilling Productivity over the Previous Decade Have Supported U.S. Oil and Gas Production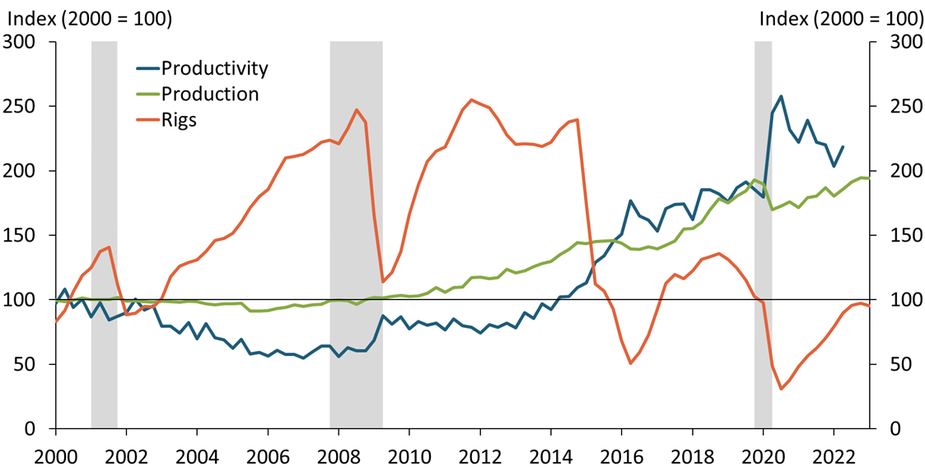 U.S. oil and gas production has risen steadily over the past decade due in large part to increased drilling productivity. Typically, increases in production are thought to come from a higher number of active drilling rigs. However, for much of the past decade, the number of rigs (orange line) has remained below its 2000 level. Instead, the increase in production (green line) has been driven largely by improved drilling productivity (blue line). The number of barrels of oil produced per foot of drilling has more than doubled since 2014. To learn more, read our Economic Bulletin.

Click here for a shareable link to this chart.



July 28, 2023
Improvements in Supply Chains Earlier This Year May Lead to Further Declines in Core Goods Inflation in Coming Months
By Nida Çakır Melek and Emily Pollard
Supply chain disruptions, as measured by the Global Supply Chain Pressure Index (GSCPI), increased dramatically during the pandemic, reaching unprecedented levels (blue line). These supply shortages led to significant pressure on prices for goods, with core goods prices rising more than 7.5 percent from February 2021 to February 2022. However, since the start of 2022, supply chains have been improving steadily, helping cool core goods inflation (green line). Because core goods inflation has been following the GSCPI with a lag of several months, the most recent declines in the GSCPI suggest potential further declines in goods inflation in coming months.

Click here for a shareable link to this chart.



July 6, 2023
Newly Unemployed Workers Are Facing More Difficulty Finding Jobs
By Nicholas Sly and Bethany Greene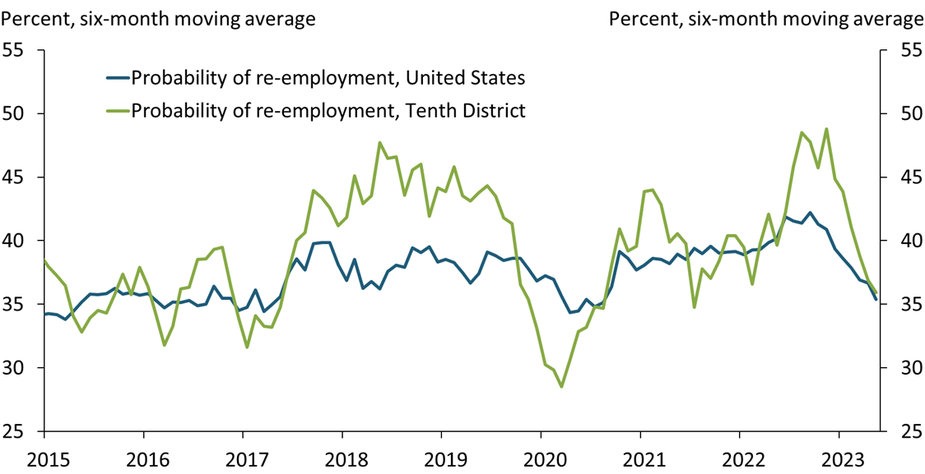 The probability of re-employment for workers unemployed less than five weeks has declined over the past few months, an early signal of the tight labor market loosening. Abundant job openings and strong labor demand in early 2022 made re-employment much easier for job seekers. However, since late 2022, workers who lost their jobs are facing more difficulty finding new employment opportunities in the Tenth Federal Reserve District and across the United States.
Click here for a shareable link to this chart.



June 29, 2023
Higher Interest Rates Reduce Headline Inflation ahead of Core Inflation
Historic evidence since 1960 suggests that headline inflation responds to monetary policy differently from core inflation, which excludes food and energy prices. After a surprise hike in the federal funds rate, headline personal consumption expenditure (PCE) inflation declines within a year (green line), largely reflecting declines in energy and food price inflation. In contrast, core PCE inflation (blue line) takes two years to decline. The current inflation cycle follows this pattern: over the last year, core PCE inflation declined only slightly, but headline PCE inflation declined from 7.0 to 4.4 percent.
Click here for a shareable link to this chart.
June 23, 2023
High Prices Continue to Drive Consumer Pessimism about Goods Purchases while Concerns about Interest Rates Grow
By External LinkNida Çakır Melek and Emily Pollard
A historically high proportion of people believe it is a bad time to buy large household goods or vehicles. While concerns about high interest rates have become a major reason given for negative sentiment about these purchases (dashed lines), consumers still cite high prices as the top reason they believe it is a bad time to buy durable goods (solid lines). This negative sentiment is especially striking given that actual goods consumption has been surprisingly resilient. Consumers' discontent with high prices may weigh more heavily on consumption as excess savings decline and consumer budgets tighten (External LinkÇakır Melek and Pollard 2022).

Click here for a shareable link to this chart.



June 20, 2023
The Fed's Footprint in U.S. Money Market Funds Has Grown Significantly Since 2021
The Federal Reserve's Overnight Reverse Repurchase Facility provides money market funds with a short-term, risk-free investment paying competitive returns. Through this program, the Fed's role as a counterparty for money market funds' Treasury security repurchases has grown significantly. The chart above shows counterparties to U.S. money market funds in Treasury security repurchase agreements as a percentage of the total market. From 2019 to 2021, activity was spread among a diverse set of counterparties. However, since 2021, the Fed has been the dominant counterparty for U.S. money market funds' Treasury repurchases.

Click here for a shareable link to this chart.



June 2, 2023
Prices Charged by Publicly Traded Firms Grew Less Than Their Costs in 2022, Even Though Inflation Remained High
By Andrew Glover, José Mustre-del-Río, and Alice von Ende-Becker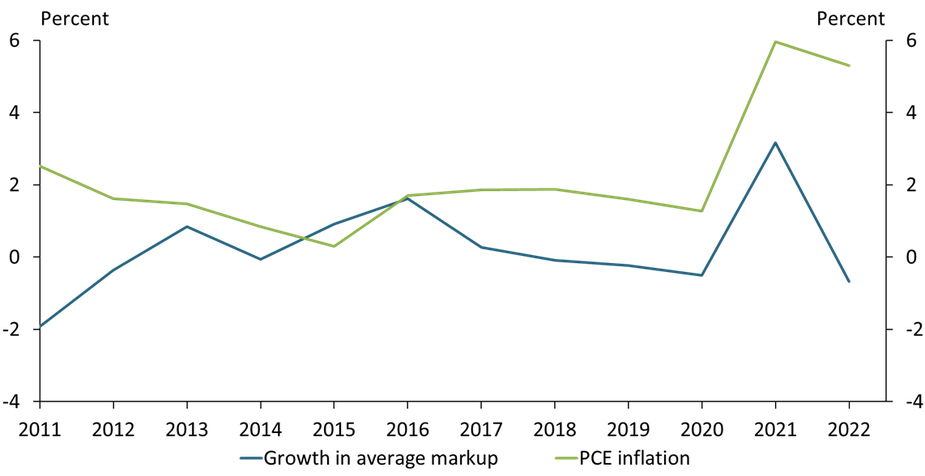 Growth in the average markup of publicly traded firms (that is, the price firms charge above their costs) fell sharply from 3.2 percent in 2021 to −0.7 percent in 2022. This decline could have substantially reduced inflation if firms' costs had remained constant, since inflation is the sum of markup growth plus growth in the marginal cost of production. However, the pace of inflation—as measured by the price index for personal consumption expenditures (PCE)—fell by only 0.7 percentage points, suggesting rapid cost growth drove inflation in 2022.

Click here for a shareable link to this chart.



June 2, 2023
Many Money Market Funds Have Invested Heavily in the Fed's Overnight Reverse Repurchase Facility
By Stefan Jacewitz and Blake Marsh
The Federal Reserve's Overnight Reverse Repurchase Facility (ON RRP) has become increasingly important to the business model of many eligible money market funds because it provides a safe investment with competitive returns. The chart above shows each participating money market fund's ON RRP investment compared with their total investments. Dots close to the 45° line indicate funds with nearly all of their investments in the ON RRP. As of April 2023, many funds kept most, and sometimes nearly all, of their investments in the ON RRP.

Click here for a shareable link to this chart.



May 19, 2023
Wage Growth Is Softening for Job Switchers, but Remains Steady for Stayers
Starting in mid-2021, median wage growth accelerated across job mobility categories in the same order as in prior expansions: first for job and industry switchers (orange line), then for job switchers who remained in the same industry (green line), and finally for stayers (blue line). More recently, wage growth of switchers—particularly those who also switched industries—has been the first category to decline, again consistent with historical patterns. Thus, an overall moderation in wage growth may take some time, as wage growth for the bulk of the employed, job stayers, is generally the last to react.

Click here for a shareable link to this chart.



May 17, 2023
Home Prices Remain Near Their Peak, Boosting Single-Family Construction
New permits to construct single-family homes (blue line) climbed for the third straight month in April, increasing 14 percent from their trough in January. This marks a partial reversal from their collapse during 2022 and reflects the surprising resilience of home prices (green, orange, and purple lines). Although the sharp run-up in interest rates has exerted strong downward pressure on prices, this pressure has thus far been offset by current homeowners' reluctance to sell and give up their low-rate mortgages. As a result, home builders face less competition and so can maintain high profit margins.

Click here for a shareable link to this chart.



May 16, 2023
Sharp Decline in Online Job Postings for Job Recruiters Could Signal a Softening Labor Market
By Elior Cohen
Online job postings have been persistently high compared with pre-pandemic levels (blue line), reflecting heightened labor demand. In contrast, after peaking in 2022, online postings for job recruiters have fallen sharply over the past year and are 20 percent below 2019 levels as of April 2023 (green line). The decline in recruiter postings may suggest that fewer employers are interested in recruiting new workers or that hiring new workers has become easier. Because having fewer recruiters may lead to fewer job openings in the coming months, this decline could signal that the labor market is softening.
Click here for a shareable link to this chart.
May 15, 2023
The LMCI-Implied Unemployment Rate Suggests Actual Unemployment May Begin to Rise
By José Mustre-del-Río and Emily Pollard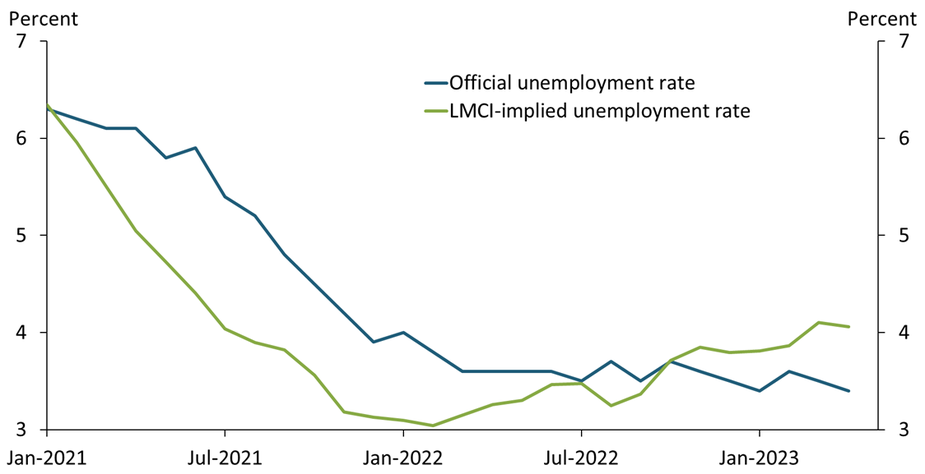 Despite some signals of labor market slackening, the unemployment rate (blue line) has shown little upward movement over the past several months. However, the Kansas City Fed's Labor Market Conditions Indicators (LMCI) unemployment rate (green line) suggests some loosening has begun. This alternative measure of the unemployment rate (updated from Glover, Mustre-del-Río, and Pollard 2021) began rising early in 2022 and now stands at 4.1 percent. Historically, turning points in this alternative measure have preceded turning points in the official measure, suggesting actual unemployment may begin to rise.