Home
Learn about the search for the next president and CEO of the Federal Reserve Bank of Kansas City.
Restrictive laws in the 1920s substantially reduced immigration, disproportionately pushing up wages in industries and regions...
Be prepared before a public health or natural disaster strikes your household, community or small business. The Kansas City...
This edition of the Oklahoma Economist looks at which Oklahoma industries have added and shed the most jobs over the past...
Learn more about the history of Black community banks with the latest historical publication from the Kansas City Fed.
–

, CDT
Virtual video event
Co-hosted by the Federal Reserve Banks of Kansas City and Minneapolis
–

, CDT
Zoom webinar
This webinar will examine the motive, use, and attraction related to cryptocurrency and blockchain technology– with a focus on impacts to minorities groups and communities.
–

, CDT
Presentations on eight new and existing community and economic development proposals from across Oklahoma will be shared.
"Besides enjoying excellent benefits, I feel empowered to influence business decisions and I have opportunities that challenge me and aid in my professional development."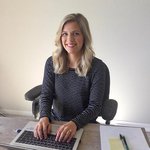 Our employees rank career opportunities, people and benefits as reasons why they stay at the Kansas City Fed.
Interested in a career at the Fed?