Last October, the Community Development Advisory Council (CDAC) met at the Federal Reserve Bank of Kansas City for their fall meeting, discussing problems around affordable housing, digital equity and access to capital.
It sounded remarkably similar to how the very first CDAC meeting, almost 20 years ago to the day, was described. On Oct. 19, 2001, members of the new council provided insights into "enhancing outreach and resources to better serve communities in the Tenth District," a Bank newsletter announcing the formation of the council stated.
That consistency is by design. Kansas City Fed President Esther George, who attended the council's first meeting in 2001, said that while the Bank and the economy operate differently than in 2001, the CDAC remains a vital connection to the Tenth District's communities.
"The role of the CDAC is just as important as ever in providing the Bank a direct line to community members representing every part of our economy," George said. "The information we get from the council helps us serve the public more impactfully and more efficiently."
First-hand knowledge
Since its inception, the mission of the CDAC has been to provide insight on community and economic development challenges faced by low- to moderate-income communities. The Kansas City Fed was one of the first Federal Reserve Banks to form such a council, said Ariel Cisneros, a senior community development advisor. Recalling the first year of the council, Cisneros said that Bank leadership, which included George, who was a senior vice president at the time, and then-president Thomas Hoenig, decided to form the CDAC because they recognized a need to get the full story about the economy.
"When you have the numbers on aggregate, that doesn't tell you what somebody who's earning $15 or $17 an hour is feeling or facing," Cisneros said. "Council members were asked to give us a snapshot of what they were seeing in their world, the things that they were dealing with, and then they were asked to describe the potential intersections with the Federal Reserve and Community Development."
Council members come from the seven states of the Tenth District and bring diverse backgrounds and perspectives—from Community Reinvestment Act (CRA) officers in banks to nonprofit representatives working on the ground. Cisneros said recruiting the first CDAC was easy, as people wanted to be connected to the Federal Reserve System and were eager to lend their voices. Michael Martinez, who oversaw CRA efforts for Vectra Bank in Colorado and Utah, remembered being elated to be considered to serve on the first CDAC.
"I was always appreciative of the fact that the Tenth District really reached out to various sectors to understand, beyond the economists' work and research that they do, what the pulse of the country was," said Martinez, who lives in Denver and is now vice president and CRA officer of American Express National Bank.
He recalled his tenure on the council from 2001 to 2004 as an exciting time to be part of community development work, especially enjoying conversations around how current events related to the economy.
"Two weeks later you'd be sitting at your kitchen table reading the newspaper about all this stuff you had just talked about," he said.
Flo Raitano, who was executive director of Colorado Rural Development in Dillon, Colorado, and was on the Kansas City Fed's Economic Advisory Council, remembered jumping at the chance to be part of the first CDAC. Raitano said having conversations simultaneously with the Federal Reserve and local development agencies helped solutions for rural Colorado advance much more rapidly than if that bridge—the CDAC—wasn't there.
"Rural America needs all the champions that it can get, and having the Tenth District serve that role is immensely important," she said.
Inclusive and responsive
Teesha Miller, assistant vice president and Community Affairs officer at the Bank said CDAC members have been instrumental in advancing Community Development programming. Miller cited initiatives focused on digital inclusion, workforce development and disaster preparedness as resulting from collaboration with council members.
"The challenges low and moderate income (LMI) populations face can be leading indicators of broader economic challenges, so the council's insights help to inform President George on monetary policy decisions, as well as help shape the Bank's community development research, resources and programming," Miller said.
Miller recalled several recent accomplishments from the council:
A three-year collaboration with former CDAC member Steve Radley of NetWork Kansas resulted in the Entrepreneurship Led Economic Development Certification for the International Economic Development Council in 2020.
Digital inclusion became a core focus area of the Bank's community development work in 2019, an outcome that was the direct result of council members sharing issues around access to affordable internet, computers and digital skills training.
When former CDAC member and current Oklahoma City Branch Director Katrina Washington shared concerns about student debt with the Community Development team, the Bank published a 2015 Research Working Paper on the subject that is still referenced today.
Conversations with the council after a tornado devastated parts of Oklahoma in 2013 led to development of "Plan. Prepare. Prevail.," a suite of tools for small business owners and households to help document their financial records.
Washington, owner and founder of Stratos Realty Group in Oklahoma City, said the council and its accomplishments helped build credibility with groups who may be unaware of the Federal Reserve System and how it functions.
"When people find out I'm part of the Federal Reserve in any capacity, in particular, it's 'Does it matter? Does anyone listen? Is there ever any change?' " she said. "I'm able to tell them there are people that are listening, they are trying to make changes, and I have personally seen how they are making a difference. I can tell people the Fed is there for us."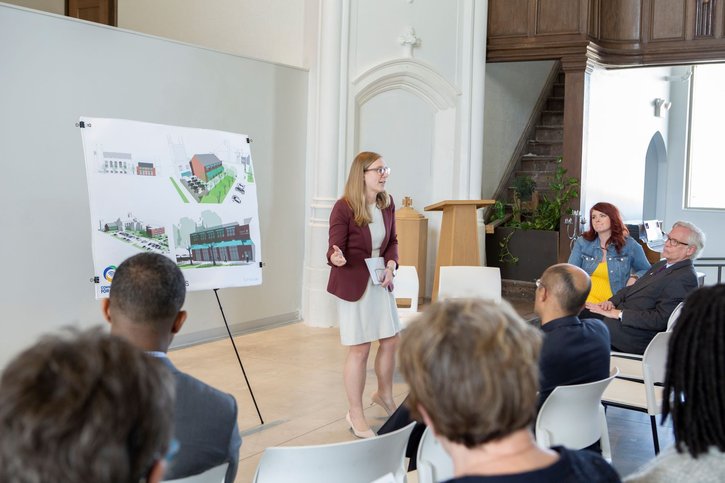 More than 60 people have served on the CDAC since it began, and current council members have come to understand the role they serve. Liddy Romero, CEO and founder of WorkLife Partnership in Colorado and a CDAC member from 2017 through 2021, described her job on the council as being a conduit of knowledge around her region's economy and the Bank.
"Money is money. It's paper and it's not the end-all, be-all," Romero said. "As funding is given to things like improving the employment rate, it's useful for the Fed to understand how it looks in action."
Awais Sufi, CEO of SchoolSmartKC in Kansas City and a CDAC member since 2019, echoed the sentiment.
"We, as members of the council, provide a perspective from the ground as to how things are unfolding with the communities that we are serving," he said. "I'm really pleased that that allows the opportunity to inform the Federal Reserve's thinking about the big structural elements that they undertake."
Serving three-year terms, council members are professionals with deep knowledge in a variety of subject matters, meaning the role at times can be intimidating, said Aubrey Abbott Patterson, a member of the council since 2019 and president and CEO of the Hutchinson Community Foundation in Hutchinson, Kansas.
"Then I remember my role – to represent community philanthropy and the breadth of issues faced by low- to moderate-income communities like mine," Patterson said.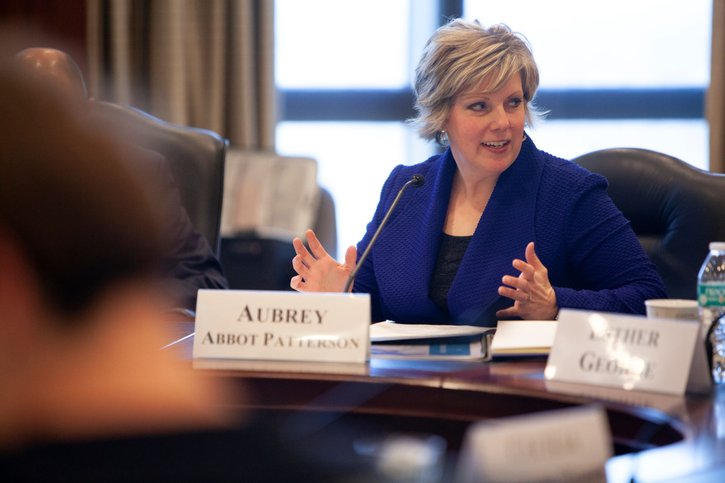 Patterson, Sufi and Romero agreed that the collaboration is valuable, citing the knowledge and positive community outcomes that develop from the council. Patterson recalled working with Senior Community Development Advisor Jeremy Hegle for an impact investing initiative around rural broadband.
"As an expert on digital inclusion, Jeremy helped me ask the right questions, connected me to others doing similar work, and then helped us tell the story of our investment and share our lessons learned with others around the country," Patterson said.
Romero said the council serves as powerful resource for the Tenth District.
"It's time and it's preparation, and we don't see each other often, but what I get from it is three times what the time commitment is," she said.
Marcos Hernandez, who served on the council from 2018 through 2020, said that among the benefits of service on the council is the opportunity to learn more about policy that could impact communities that members represent. Hernandez, now vice president of U.S. Bank's Corporate Responsibility group and Community Affairs manager in Omaha, Nebraska, is especially proud of playing a part in connecting the Bank with Javier Fernandez, president and chief executive officer of Omaha Public Power District and chair of the Kansas City Fed's Omaha Branch Board of Directors.
"You can see the value of creating those partnerships and then having opportunities for talent and leaders like Javier," Hernandez said.
Expanding opportunities
Since 2001, the CDAC has expanded the number of council members and added new sectors based on emerging community issues. Members are also consulting more frequently throughout the year than when the council first formed, providing more opportunities for collaboration. For the past five years, the Bank has promoted an open application process, which expands opportunities to serve on the council, as well as the pool of candidates.
"Representation has always been a focus, as it's important that we are inclusive across geography, sector, race and gender," Miller said.
Miller said the CDAC will continue to have a strong impact on Bank operations in the future, as more attention is paid to the importance of diversity and equity in the national economy.
"We have to address growing challenges around workforce, digital inclusion, emerging technologies and their impact on LMI populations, as well as the reduction of the wealth gap," Miller said.
Learn more about the External LinkCommunity Development Advisory Council, including meeting the seven newest members announced in February 2022.