2023 symposium examines conditions facing ag sector
"The Changing Geography of Agricultural Production" is the theme of the Tenth Federal Reserve District's annual Agricultural Symposium on May 23 and 24 in Kansas City.
"Agriculture is a major industry in our region," said Nate Kauffman, senior vice president, economist and Omaha branch executive for the Kansas City Fed. "Changes in agricultural production affect transportation, financing, processing and overall, the local economy."
Having grown up in a Michigan farming community, Kauffman remembers "driving down a gravel road and seeing my uncle hoeing in a field and giving a two-finger wave."
Much has changed since then, and the symposium is designed to provide an understanding of evolving trends, risk-management, financing strategies, and the changing weather events that are causing farmers like Hunnicutt in Nebraska to modify their practices and try new things.
Trying new things: Ingenuity, preparation help farmers protect production
Corn is king in Giltner, Neb.
"And soybeans play second fiddle," said Brandon Hunnicutt, a fifth-generation farmer and a member of the Corn Board of the National Corn Growers Association.
Corn might rule, but the humble radish plays an important role, too.
Hunnicutt mainly grows corn and soybeans on farmland that has been in the family for 120 years. After he harvests the corn and soybeans, he plants turnips, rye and radishes as a cover crop. When winds turn topsoil into dust, cover crops help stop erosion. They also keep the soil from compacting, and they increase the water-holding capacity of the soil.
Cover crops are a practice recommended by the Corn Board, and USDA grants encourage farmers to at least try cover crops, Hunnicutt said.
"Wind erosion has really been bad the last two to three years," he said. "'Derecho' is now part of our vocabulary."
Derechos—windstorms with straight-line winds up to 100 mph—are blowing across the Plains more often, and tornadoes no longer confine their destruction to spring.
Adapting to changing weather patterns doesn't change what he plants, Hunnicutt said. But it does mean making the crops more resilient, changing the way that crops are irrigated and adjusting the timing of fertilizing. "We don't want a rapid increase in growth that makes the plant brittle."
Creativity and planning
Although Kimberly Ratcliff, a north-central Texas rancher, can't predict the weather, she can prepare for it. Ratcliff raises Charbray and Wagyu cattle on her Caney Creek Ranch.
"We just got out of a drought," she said. To be ready for more dry years, Ratcliff dug a pond to catch water and a well that runs on solar power.
"When drought comes, income goes with it," she said.
To add some certainty amid unpredictable weather, Ratcliff sold 250 head of cattle and turned some grazing pasture into a solar farm. She has a 25-year lease agreement with a solar company and the comfort of a monthly paycheck from that deal.
When an ice storm last year destroyed trees, froze pipes and cut off electricity, Ratcliff knew she needed to prepare for the next round.
"We've never had this before," she said. "We need to change our mindset of how we ranch here."
To prepare, Ratcliff bought three generators, stocked up on salt and sand, and made plans to care for her cattle when ice made it difficult to reach them. She credits the USDA's Natural Resources Conservation Service with helping her make the improvements through a cost-share program.
Engineers from the agency surveyed her ranch and developed a plan that included rotational grazing, cross-fencing and using silvopasture—the practice of integrating trees into grazing pasture.
"Providing shade to the cattle reduced stress and helped increase the production of meat and milk," she said.
Sometimes it's not the farming practices that change—it's the crop.
Consider cotton in Kansas. It is well-suited for long hot summers.
Not only that, "cotton uses less water than corn and commands a better price," said Jonathan Aguilar, a Kansas State University researcher who has received grant funding to test the sustainability and economic performance of cotton.
Aguilar has planted cotton in a field near Garden City, Kan., and thinks cotton may be a way to cope with severe drought conditions in southwest Kansas, where annual rainfall is around 18 inches.
"Drought and the changing climate in our region are favorable to cotton production," Aguilar said. "We're pushing the northern limits of cotton production."
When harsh weather hits, farmers must quickly adapt and manage risks
Neal Keppy remembers the summer of 2020, when he and his brother were sorting pigs in their Eldridge, Iowa, barn.
"Suddenly the power went out, lights went off, and the roof disappeared," Keppy recalled.
Family members found parts of the roof in cornfields as far as a half-mile away.
Whitney Hansen in Burlington, Colorado, remembers running a combine for 22 hours to get a wheat crop out of the ground before a hailstorm.
Extreme weather. Extreme measures.
Adverse weather disrupts farming operations and creates risk that producers must consider when planning for future crops or herds.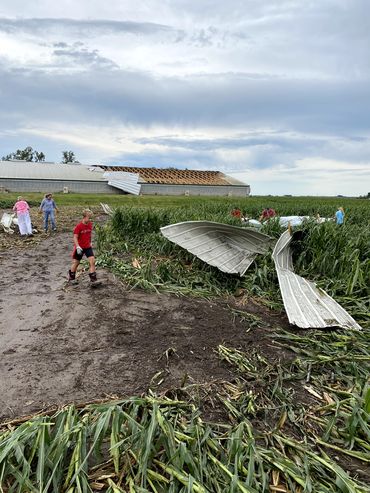 "Farmers and ranchers face more uncertainty today than they did 20 years ago," said Tom Coon, vice president and dean of Oklahoma State University's Division of Agricultural Sciences and Natural Resources.
Coon said that the uncertainty is three-pronged: the market, the weather and the longer-term change in climate conditions.
As a result, "Producers must choose how they manage risk," he said.
For Hansen, mitigating her risk from hailstorm damage involves crop insurance.
"Have a good insurance agent and be proactive," she said. "If a storm is predicted on Thursday, make sure to get your crop insurance on Tuesday—or even hours before."
Hansen divides her time between a row-crop farm in Burlington and a cattle ranch in Oklahoma.
In Oklahoma, she has adapted to having a spring season and a fall season for calving, because "it extends the cash flow."
Also, a shortage of hay for the cattle one winter has turned Hansen into a "hay hoarder"…"I always keep an extra half-year of hay in stock."
David Lobell, a professor at Stanford University in California, researches ways that agriculture can adapt to climate changes.
For example, Lobell has studied "double-cropping"—planting a second crop after the first one matures—as a management practice for adapting to warmer climates.
"In the northern parts of Missouri, Illinois and Iowa, it used to be too risky to plant a second crop because of the fall frost," Lobell said. "Now, as the frost recedes into later in the fall, there is time for a second crop."
Historically, because of that perceived risk, producers couldn't get crop insurance for the second crop. But that is starting to change, he said.
In Iowa, the widespread, damaging windstorm—known as a derecho—that tore the roof off Keppy's barn also flattened his cornfields.
"It got us thinking about making the (corn) plant as healthy as possible," he said. He now nourishes the plants, from roots to tassels, with a variety of treatments.
"A healthy plant can withstand drier weather, wetter weather and wind events," Keppy said.
He also is growing shorter corn—experimenting with plants that will grow to be about six feet tall rather than 10 to 12 feet.
"If the ear is closer to the ground, the plant won't tip over as easily," Keppy said.
Another approach to managing risk is to eliminate as much uncertainty as possible by controlling the environment.
"In the Netherlands, for example, they have created a sealed environment by growing most of their crops in greenhouses," said Coon of Oklahoma State.
On a much smaller scale, Keppy has built a sealed environment for his pigs.
The pigs live in a barn where the temperature averages between 65 and 70 degrees every day. Fans help stir the air.
The pigs breathe controlled air. They eat, drink and sleep in that space. What the pigs don't do is to wallow in the mud to keep cool or share their feed with birds who fly by and spread disease through droppings.
All that pampering leads to fatter pigs and paychecks.
While Keppy has taken several steps to control the environment for his pigs, he recognizes that he can't control the climate for his corn and soybeans. Weather disruptions will continue and are, in fact, nothing new, he said.
"My grandfather and great-grandfather farmed through the Depression and Dust Bowl," he said. "My father farmed in the '70s when it was so snowy it was hard to feed cattle and provide bedding. We work with what Mother Nature gives us."
Navigating the agricultural investment landscape: Incentives and research can help clear paths
Change takes time.
It also takes money.
Transition to climate-healthy practices often involves financial incentives to do so. Producers and researchers might be persuaded to try less-traditional, more-expensive practices when they have loans or grants to cover costs.
Compost, for example, contributes more to soil health than synthetic fertilizer, but professionally produced compost can cost more.
Andy Breiter, owner of Grama Grass & Livestock in Boulder County, Colorado, was awarded a $15,000 Restore Colorado grant in 2021 to purchase compost to apply on 30 acres of his operation.
"Restore Colorado is a local program that was launched as the result of a USDA grant in 2020 to support regenerative practices," said Tim Broderick with the Boulder County Office of Sustainability, Climate Action & Resilience.
Boulder County teamed with two nonprofits to develop the program. Grants are funded by a 1% fee from meals purchased at participating restaurants.
Breiter's application of compost in his operation is estimated to have sequestered 372 metric tons of carbon dioxide.
Breiter is a first-generation farmer, explained Emily Gallagher, spokesperson for Grama Grass & Livestock.
"Andy wanted to raise and graze animals without purchasing land," Gallagher explained.
So, he contracted with the City of Boulder and other organizations to restore pastures and degraded land by rotational grazing, applying compost and planting warm season annual grass on bare ground.
Currently, the cattle are grazing on a large area where a wildfire took out 1,000 homes in 2021.
"We use a mobile corral to move the cattle regularly, about every two weeks," Gallagher said.
The cattle, Angus and Hereford crosses, are sold for beef.
Farmers and ranchers and their lenders face increasing challenges from weather extremes and variability.
Funding: Challenges and possible solutions
"Agricultural financial institutions grapple with what their role should be in navigating climate risk," said Maggie Monast, senior director of Climate-Smart Agriculture for the Environmental Defense Fund, EDF.
EDF is a nonprofit "at the intersection of the economy, agriculture and the environment," Monast explained.
EDF surveyed officials at agricultural banks in 2022 about the impact of climate change on financing decisions and found that 87% of them believe that climate change is a risk to their business. Yet only 24% percent factor climate change into their decision-making.
"Financial institutions are perceived as neutral, trusted advisers by borrowers," Monast said. As such, lenders need to be more proactive and support farmers who are using climate-smart practices, she said.
In 2022, EDF—in collaboration with the Farmers Business Network—launched a pilot program called the Regenerative Agriculture Finance Fund. The program offers a .05% interest rebate on operating loans for farmers who meet standards of nitrogen use and soil health, Monast said. Forty-eight grain farmers from 18 states enrolled in the $25 million pilot program.
"It was so successful that the program doubled in size to $50 million in 2023," Monast said.
Increasingly ag investors are looking ahead to the next 10 to 20 years, said Jackson Takach, chief economist and senior director at Farmer Mac.
"And they're talking about weather and climate more today than ever before."
Lenders are asking about the "what ifs" involved in extending credit and putting capital to work.
What if there is no rain? What if it floods? What if the well water dries up?
What lenders want to hear is that borrowers have a plan in place in case the "what ifs" become reality, Takach said.
Answers to the "what-if" questions—the plans—determine the risk involved and thus, the cost of capital.
"If the cost of capital is too high, it may change behavior," Takach said. "The producer may decide that it costs too much to build that barn or plant or orchard."
The research factor
Investments in research also are instrumental in determining the future of agricultural production.
For example, several federal grants were awarded to researchers at Kansas State University and Oklahoma State University to study the feasibility of growing cotton in those states.
Drought-stricken farmers might find cotton appealing because it requires less water than corn and commands a better price.
Even though the cotton may grow and thrive in new regions, it takes a lot of acres to pay for the machine to harvest cotton bolls -- about $1 million for a cotton stripper.
The cost for capital to finance the cotton stripper may change farmers' minds.
The goal of Tyson Ochsner's research at Oklahoma State is to use soil moisture content as an indicator of current drought conditions and a predictor of wildfire risk.
"Knowing today's conditions enables farmers and ranchers to make better decisions about what to do now in the growing season," Ochsner said.
Eventually, forecast models will give ranchers "a look-ahead" to see, for example, how much forage will be produced based on the water stored in the soil or how great is the likelihood of wildfires based on the combustible organic content of the soil.
At Stanford University in California, David Lobell studies how to effectively adapt agriculture to climate change.
One thing he says he has learned: More research is needed—and quickly.
Long lags in agricultural research and the rapid pace of climate change "raise the question of whether current levels of investment in agricultural research are sufficient to sustain 20th century rates of productivity growth in the 21st century," Lobell said.
Monast shares that sentiment.
"The speed of change is happening faster than many farmers' ability to adapt," she said. "They need adequate financial support, technical assistance…and they need to see examples of success from other farmers. With those three ingredients in place, they can move a lot more quickly." Monast said.
The policy impact
Kansas is experiencing the worst winter wheat crop since 1963—quite possibly the worst ever.
"Some parts of the state got only five to six inches of rain," Aaron Harries, vice president of research and operations for the Kansas Wheat Commission, recently said.
Crop failure was widespread.
It was the third year of drought, "and there was no subsoil moisture," Harries said. "Growers were living from rain to rain."
Conservation practices, such as "no-till" and "fallow the ground," have been adopted across most of the state for decades. And varieties were being planted that were more drought- and heat-tolerant.
But that just wasn't enough. Increasingly, wheatfields were abandoned.
"Federal crop insurance is critical," Harries said. "It's the only way they can sustain their operation."
The 2014 Farm Bill focused on risk management and expanded the scope of crop insurance and broadened policy coverage, said Tom Coon, vice president and dean of Oklahoma State University's Division of Agricultural Sciences and Natural Resources.
"The 2022 Climate-Smart Commodity Program funds conservation projects to switch crops, use new irrigation practices, and increase carbon sequestration," Coon said.
Cost-sharing, through the Natural Resources Conservation Service (NCRS) of the U.S Department of Agriculture, provides the impetus for producers to make changes they otherwise couldn't afford.
"We know there are practices we should be doing," said Kimberly Ratcliff, a Texas rancher. "But they're not in our price range."
She used cost-sharing on her ranch to cross-fence a 100-acre pasture to make rotational grazing possible. She also dug a well and planted windbreaks.
"You have to pay out of pocket first, but they then reimburse you," she said. In the first 10 years, cost-sharing covers 75 percent of the expense associated with certain conservation practices. The percentage then decreases over the ensuing years.
To inform others in her community about NCRS, Ratcliff founded 100 Ranchers, a nonprofit to support the underserved in her community. The nonprofit subcontracts with NCRS to get the word out.
In Boulder, Colorado, nonprofits MAD Agriculture and Zero Foodprint collaborated with county and city officials to launch a program to develop Restore Colorado grants.
The grants are funded by a 1% fee on meals purchased at participating restaurants.
"Restore Colorado seeks to ease the financial burden of conservation practices such as applying compost instead of fertilizer," said Christian Herrmann of Boulder County's Office for Sustainability, Climate Action and Resilience.
Herrmann said the grants are designed to make possible the use of regenerative methods "for farmers whose profit margins are already razor-thin."
From local efforts like 100 Ranchers and Restore Colorado grants to long-standing federal policies and new climate legislation like the Inflation Reduction Act, policies are in place to address risks associated with food and agricultural production and to help with the adoption of newer practices.
Yet, despite progress under existing policies, the pace needed to enact measures to keep up with climate change is too slow, said Gregg Doud, chief economist at Aimpoint Research, a global marketing research and competitive intelligence firm.
"Our limitation is our government," Doud said. "For example, it takes 15 to 17 years to approve a new herbicide."
Getting regulatory approval for new technology is the bottleneck, he said.
"We at Aimpoint see it as a national security issue," Doud said. "Our motto is 'Food security is national security.'"
Laura Wood of Laura Wood Peterson Consulting concurs.
"The key challenge in federal farm policy today is assessing and managing risks in our agricultural system relative to climate-smart agriculture and nutrition security at home and abroad," Wood said.