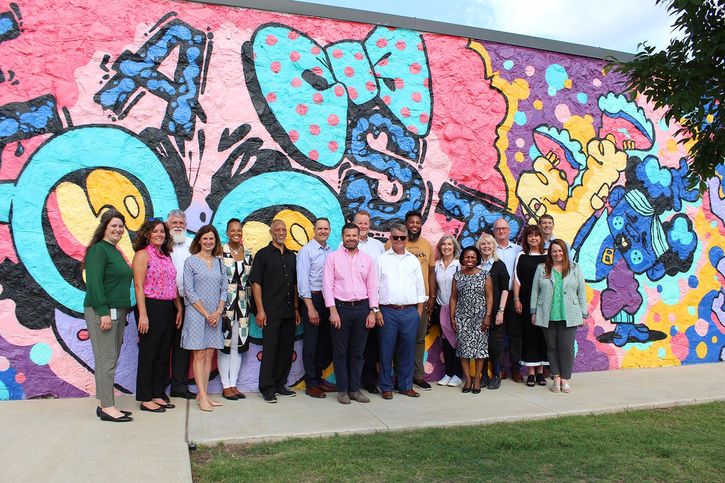 The Oklahoma City Branch Board of Directors in September gathered for an offsite board meeting to tour reinvestment and development activities in northeast Oklahoma City.
Chad Wilkerson, senior vice president and Oklahoma City Branch executive, said each year one branch board meeting is held in an offsite location in Oklahoma, typically hosted by one of the directors, to better understand the work they do and the economy of the community in which they work. Members of the Bank's senior management also participated in the tour.
"We learned a lot by spending half a day in northeast Oklahoma City, a primarily low-income part of the city," Wilkerson said. "It was encouraging to see the work being done by a variety of businesses and entrepreneurs to bring more economic vitality to the area, and the way in which the community is working together to bring it about."
Katrina Washington, Oklahoma City Branch board chair, served as the hosting director for the offsite meeting. To kick off the event, Washington shared a presentation detailing the history of northeast Oklahoma City as well as the area's transformation over the last 25 years. Washington has been actively involved in redevelopment efforts through her work in the real estate sector and as executive director of Neighborhood Housing Services Oklahoma.
Board directors then toured commercial and residential developments, including The Douglass at Page Woodson, a renovated former high school that offers residential and commercial space, and EastPoint, a mixed-use development featuring a grocery store, retail and offices.