Steven Howland is an assistant economist in the Community Engagement and Inclusion Division of the Federal Reserve Bank of Kansas City. He joined the Bank in August 2020 after a career as a college instructor and researcher. He has undergraduate and graduate degrees in urban and environmental planning from Arizona State University and has a doctorate in urban studies from Portland State University. He brings a passion and perspective driven by his family's experience with disability and low-wage work.
Community Connections: Steven, how would you describe your role with the community development team?
Howland: I'm responsible for much of the research we do. I perform analyses on various surveys we conduct, such as the low- and moderate-income (LMI) economic conditions survey, and those at the System level to provide insight on the conditions of LMI communities in our District. I also conduct independent research that gives more insight to particular issues in LMI communities.
Community Connections: What's the impact of that work? Who benefits?
Howland: The work I do, in part, can help our community development advisors with their outreach efforts, community development organizations across our district with their programming, and (Kansas City Fed President) Esther George with understanding the issues facing those with the most challenges in our economy.
Community Connections: This isn't just an intellectual exercise for you, is it? You have mentioned that you have a personal connection to people facing economic and other challenges.
Howland: I grew up in a lower-income household. My dad was a disabled Air Force veteran, which limited his ability to work. My mom worked in fast food and retail for most of my childhood. It was not until I was in high school that she became the first person in the family to graduate college. I have an older brother who also is a disabled Air Force veteran.
My dad was mostly confined to a wheelchair for a good portion of my childhood. I witnessed the struggles he went through daily from getting dressed to trying to get around in the public realm in a wheelchair. Similarly, my mom frequently worked multiple jobs to keep the family afloat. That meant she had less time with us. It also took its toll on her as she lost her sense of smell from her fast-food job, and the years of standing for hours on end has led to severe issues with arthritis.
Growing up in a household that faced issues with disabilities and low-wage work inspired a lot of my interest in issues of inequality. It wasn't until I started my studies in urban planning where I was really exposed to the issues of racial inequalities, and I've been studying it ever since.
Community Connections: How did you end up choosing urban studies as the focus of your career?
Howland: I was inspired by my dad, who had his own home-based business as an engineering draftsman. I started my studies in architecture, and later switched to urban planning after finding the bigger picture thinking much more to my liking. I never intended to go for a masters or Ph.D., but very influential colleagues and mentors convinced me to continue at each juncture.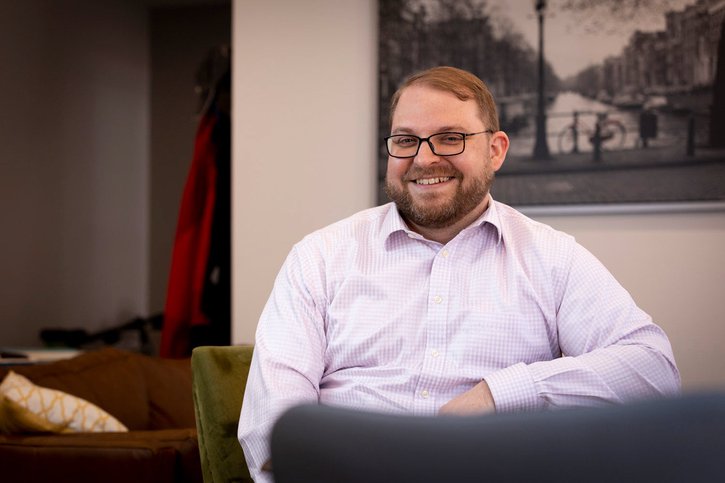 Community Connections: Let's talk about that. From your bachelor's to your Ph.D. was about 16 years. So many people start that process and never finish it. What were those critical experiences that encouraged you to keep going?
Howland: The first was an internship I did with the Maricopa Association of Governments at the beginning of the Great Recession. I helped with a study of geographic gaps in availability of social services for Maricopa County, which includes Phoenix. That project was my first foray into research and knew from there that is what I wanted to do as a career.
The second point was working on my master's thesis, where I researched the effect of cost of driving, job access and segregation in Phoenix. This project really piqued my interest in how low-income households make ends meet. That culminated in my dissertation, where I looked at the role of transportation in making ends meet for low-income Black households in Portland, Oregon, and the effect of gentrification on their abilities to make ends meet.
Through my background, those projects, and my studies of associated topics in between, I've developed a life-long passion of revealing the ways our society is structured that has disadvantaged certain populations and figuring out ways to overcome those disadvantages.
Community Connections: In 2021, you're conducting an evaluation of the LMI survey, which the Kansas City Fed has deployed for the last 10 years, and you're also writing a series of research briefs focused on establishing a baseline of understanding LMI challenges across the Tenth District. What do you want readers to understand about your work?
Howland: I want readers to understand that data and research have a particular role in the broader work in community development. It is never the end goal. It is always meant to be a complementary feature to conversations leading to action. What I do or do not research or provide data on can substantially change the conversation and can even determine whether there is a conversation at all. It is my goal to be as inclusive as I can in the data I bring to the conversation – which can be challenging, as many data sets do not track race or ethnicity or income well or at all – and to cover as many topics as I can.
Community Connections: You started work at the Kansas City Fed during the pandemic, and it was eight or nine months before you met a colleague in person. What do you enjoy doing when you're not working, and what do you look forward to doing when we get back to normal?
Howland: I'm a big nerd. I enjoy reading both academic works and sci-fi/fantasy novels as well as playing video and board games. Now that summer is near and the pandemic threat is subsiding, I'm looking forward to two things in particular: getting on some roller coasters and visiting craft breweries.