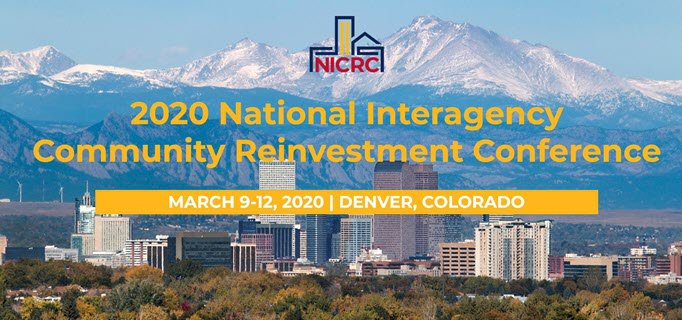 How can we work together to foster equitable community investments? The 2020 National Interagency Community Reinvestment Conference is your chance to connect with leaders and peers from across the country and find out what works.
Join us March 9-12 in Denver, Colorado, where we will explore new partnerships and strategies to advance equitable growth. The conference program features:
CRA modernization updates and compliance training for banks of all sizes
Emerging community development trends and issues
Tours highlighting on-the-ground success stories in Denver 
NICRC is sponsored by the Federal Reserve Banks of Kansas City, Chicago and San Francisco, the Board of Governors of the Federal Reserve System, the Federal Deposit Insurance Corp. and the Office of the Comptroller of the Currency. Come be inspired!
NICRC brings together community development leaders, practitioners, investors and policymakers for four days of informative sessions and networking. "Whether you are a seasoned professional or new to the community development field, this conference has so much to offer you in your professional development," Ariel Cisneros said. "There are so many sessions to help you learn about new funding strategies and new partners that you can apply in your community." Cisneros is a senior community development advisor for the Kansas City Fed, and a conference organizer.   Discover strategies to support small businesses, affordable housing, rural development and inclusive growth efforts. Hear how regions are recovering from natural disasters and investing in community resiliency. Explore innovations in workforce development, including the role of investments in early childhood education and youth programs. And pick up new ways to get creative in your financing models to achieve more powerful results.   Visit External Linkwww.nicrc.us/denver to learn more and register. Let's work together to create healthy and resilient communities.