Changes in the coal mining industry have led Ray Woods from the depths of shoveling coal to the heights of installing solar panels.
In 2009, when Woods saw mines closing and miners losing jobs, he left Kentucky for Indiana where he enrolled in college to "find out what I wanted to do." For a speech class assignment, Woods, 50, chose "solar" from a list of topics. At the time, he said, the topic "was unheard of to me."
After giving the speech, "I couldn't stop reading about solar," Woods said.
Woods' vision proved prophetic. The coal mine he left filed for bankruptcy two years later, and now he is part owner of The Solar Guys in Cheyenne, Wyoming. The company sells and installs solar panels.
For Woods and others, including utilities, investors, businesses and government, now is a time of transition to renewable resources from traditional fuels.
Understanding that transition was one of the reasons for the "Energy and the Economy" conference, a six-year partnership between the Federal Reserve Banks of Kansas City and Dallas, according to Chad Wilkerson, vice president, economist and Oklahoma City Branch executive of the Kansas City Fed. The 2021 conference occurred virtually Nov. 5.
"The Kansas City and Dallas Feds teamed up to host this conference following the drop in oil prices of 2014-15 that led to a massive restructuring of the oil and gas industry that has really continued to this day," he said. "At the same time, interest in moving the electricity grid toward greater reliance on wind and solar energy and away from coal was well underway."
Mine Yücel, senior research advisor for the Dallas Fed, said one goal was to bring together leading experts in energy to help the Banks and the broader public understand the evolution of the industry.
"Since we began hosting the conference, renewable energy has also grown tremendously, and understanding this transition has been an increasing focus of our conference."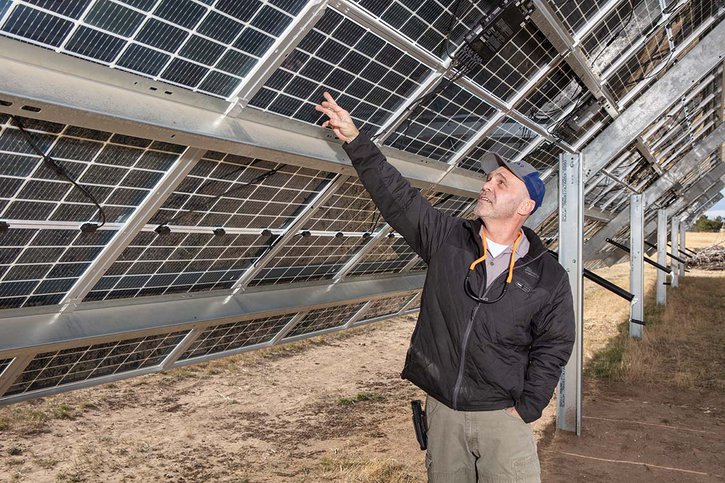 Fostering the transition
Private investors, government programs and incentives, nonprofits, and foundations all have a part in fostering the transition. Much will depend upon collaborations and shared resources.
A public-private partnership in the western Denver area, for example, is turning undeveloped land in the city into a renewable energy industrial park. The state of Colorado, Jefferson County and the federal government are building a Global Energy Park for renewable energy companies.
Federal Reserve Senior Economics Specialist David Rodziewicz in the Kansas City Fed's Denver Branch and the Dallas Fed's Keith Phillips, an assistant vice president and senior economist in the Dallas Fed's San Antonio Branch, have studied the effect of the energy transition on their regional economies.
The oil and gas sectors have historically played an important role in both the Southwest and the Rocky Mountain region but are now sharing the stage with renewables, both Rodziewicz and Phillips observed.
"The overall energy sector has begun to diversify—incorporating wind, solar and other technologies into electricity production," Rodziewicz said.
The Rocky Mountain region and the Tenth District have attracted large shares of investment in renewable technologies in recent years. As renewable energy investments have grown over the last five years, the Rocky Mountain States—Colorado, Wyoming and New Mexico—and other states in the Tenth District now surpass the U.S. average for renewable energy capacity, Rodziewicz said.
In Texas, total electricity generation from wind and other renewable sources has risen during the past 10 years from 8% to 25%, Phillips noted.
Renewable power, however, "is not a substitute for oil, natural gas or natural gas liquids in industries such as petrochemical and plastics production," he said.
Because demand for power continues even when the sun isn't shining and the wind isn't blowing, "a significant share of capacity must remain in other sources such as natural gas," Phillips said.
Rodziewicz and Phillips conclude that the transition will be gradual and will change regional economies, but the regions are prepared to adapt to the changes and will emerge stronger.
For the Rocky Mountain region, Rodziewicz observes that "the region and surrounding states are maintaining prominence as energy-intensive locations even as the sector diversifies."
For the long-term outlook in Texas, Phillips' research suggests that "the relative strength of the Texas economy could persist in coming decades" even if the oil and gas sector declines due to the transition.
Transition options
Whether the transition is smooth or bumpy depends on many factors, including policies, legislation and regulations that determine whether a county, city or homeowners' association is receptive or resistant to change.
Public opinion also is influential, and subject to change. For example, will communities support new wind farms, or will protestors show up at a proposed site? Until 2017, wind farms in Kansas were exempt from property taxes. The exemption now is capped for new wind farms at 10 years.
Still, for many, questions remain. For example, are solar collectors unsightly?
Ask Janice Mason of Cheyenne, Wyoming. Solar panels on her house have lowered her monthly electric bill from $125 to $14.
"I'm a green person and I love the savings," she said.
What about a nuclear reactor?
"There would need to be a big change in policy with nuclear energy before it would be a feasible alternative," said Jerry Hudgins, interim director of the Nebraska Center for Energy Sciences Research in Lincoln.
Hudgins conducts research on renewable energy and other projects at the center, a collaboration between the University of Nebraska-Lincoln and the Nebraska Public Power District.
Nuclear could generate energy on a large scale but the permitting process, environmental studies and the lack of federal support currently stall research on—and the use of—nuclear energy, Hudgins said.
Looking for changes
Economists and others have looked at current policies, programs, ordinances and other regulations and analyzed how they could be adapted or created to encourage clean energy.
Alice Moore, an economist at Keybridge LLC, an economic and public policy consulting firm in Washington, D.C., and a panelist in the "Energy and the Economy" conference, has analyzed how current national programs and policies could be used to encourage production of electric vehicles and placement of charging stations.
Moore cited Ford Motor Co.'s announcement in late September that it plans to build a large electric truck factory in Tennessee as the result of financial incentives offered by the state. Ford said it will spend $5.6 billion to build an auto manufacturing campus in Stanton, Tennessee, and create about 6,000 new jobs.
But before funding is secured and plants are built, however, motorists must want to buy electric vehicles.
To influence the purchasing decisions of motorists, Moore recommends changing the incentive used to help offset the price of a light-duty electric vehicle from a tax credit to a direct rebate.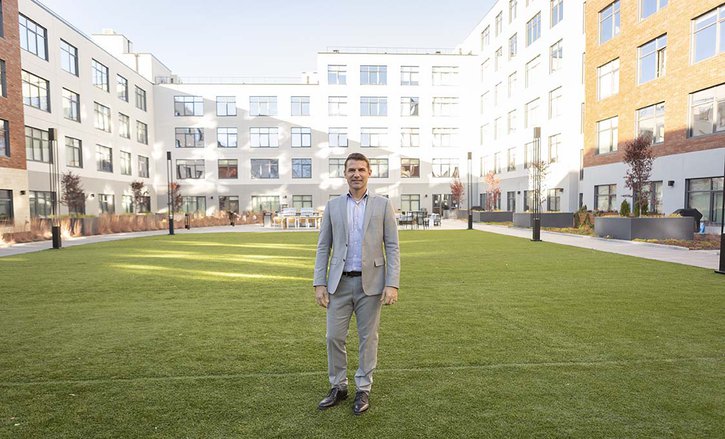 Making a list
When it comes to ideas about how to encourage energy efficiency, Jonathan Arnold has a three-page list. Arnold developed Second and Delaware, a 276-unit apartment building in Kansas City, Missouri, that has been certified as the world's largest passive solar house by the Passive House Institute U.S. Inc.
Second and Delaware, which opened in December 2020 and has a waiting list, was built with 16-inch-thick concrete walls with foam insulation, triple-glazed windows and rooftop solar panels.
"Annual energy usage is 75 to 92 percent more efficient than other multifamily buildings," Arnold said.
He said more buildings with such energy efficiency would be built if federal policies were changed to support long-lasting, low-carbon, affordable housing. He added that incentives should be offered to build structures with concrete or heavy timber, with passive solar certification and mixed-income occupancy.
Federal programs that could be modified to encourage passive solar, energy-efficient buildings are handled by the Department of Housing and Urban Development, the Internal Revenue Service and the Historic Tax Credit Program.
"Some changes require legislation, but some could be handled administratively," Arnold said.
Some of this already is being done by the state of Nebraska.
The Dollar and Energy Saving Loan program helps Nebraska residents, businesses, school districts and municipalities make their houses and buildings more energy efficient. The program provides low-cost financing for energy-efficient equipment and projects.
"These energy loans can be used for a multitude of energy-related projects such as replacing inefficient lighting, installing energy-efficient heating and cooling systems," said Emily Case, public information officer for the Nebraska Department of Environment and Energy.
In 2021, the program helped finance $9.43 million in 327 projects to improve energy efficiency.
During that year, "the program is estimated to have saved 57,458 kilowatt-hours of electricity and reduced carbon emissions by almost 6,710 tons," Case said.
Wilkerson said in the big picture, it makes sense to partner with the Dallas Fed to host the "Energy and the Economy" conference, and the collaboration between Banks has been beneficial.
"Our economists have worked together in the past, and both Banks have strong interest in how the energy sector is evolving," Wilkerson said. "Over half of the oil and gas activity in the country occurs in our two Districts, an even higher share of energy companies are headquartered here, and our two Districts also have among the highest potential for renewable energy—in terms of solar and wind—of any Federal Reserve District."