Rosanna Tovalin walked into the Liberty Room at the Federal Reserve Bank of Kansas City expecting a lecture on finance. Then she saw musical instruments, microphones and speakers lined across the stage in front of the room.
"I knew this was business related, but I don't think of business and rock music going together," said Tovalin, a student at Turner High School in Kansas City, Kan.
Nearly 200 high school students from the Kansas City metro learned on Oct. 28 that rock music and finances do go together. 
Through a partnership with Funding the Future, a nonprofit based in Cheyenne, Wyo., that promotes financial education for students, the band Gooding performed a series of original songs before switching gears to discuss finances. The band's lead singer, who goes by the name Gooding and who attended the University of Kansas, started with his central lesson: "The way you look at a dollar is the way you look at a million dollars."
He gave examples of celebrities, athletes and lottery winners who couldn't manage their finances and accumulated excessive amounts of debt.
"Some of you have only a dollar in your pocket today and I'm here to tell you that you are doing better than some famous people," he said. "Those people have less than zero."
Using examples from his personal life, Gooding talked about financial mistakes he and his friends have made. He also stressed the importance of saving money and asked students to evaluate their spending and saving habits.
Gooding also demonstrated how an 18-year-old could turn a regular saving habit into a sizable amount of money by the time he or she retires. He urged students to at least open a savings account and more specifically to contribute to an individual retirement account (IRA), to help them accumulate savings over time.
"Time is on your side," he said.
On the flip side, Gooding warned students about the pitfalls of credit cards and payday lenders. He also talked about other forms of bad credit and spending, and urged students to ask questions—to seek out banking and finance professionals for help in planning their futures, especially if they plan on attending college and taking out loans.
Kansas City Fed President Esther George said this is the first rock performance ever hosted by the Bank, but she explained to students the importance of this particular show.
"Here at the Bank, we care how you spend your money. The choices you make with money will affect you for the rest of your life."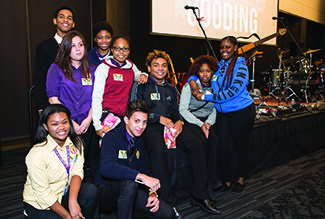 Levi Le, a student at Northeast High School in Kansas City, Mo., said the concert's message got through to him.
"The lesson spoke to you," Le said. "When you think of rock stars, you don't think of aspects of them on a personal level. Especially when they have important stuff to say—we take it to heart."
Le wasn't alone. More than 20 students stood to ask band members questions following Gooding's financial education lesson. Their questions concentrated on retirement accounts, building up assets, credit scores, bank accounts and rent to own.
Shania Copes, a student at Grandview High School in Grandview, Mo., who works part time, said she plans to change her spending habits.
"I'm going to start saving my money," she said. "I have to change my spending habits because they are horrible."