As a senior community development advisor, Steve Shepelwich's work centers on connecting workers with jobs, improving the quality of low-wage jobs, and helping institutions leverage the Community Reinvestment Act to support workforce development programs. 
"Connecting local organizations with resources they can use to do their work better is something I truly enjoy about my work," Steve, a 13-year veteran of the Federal Reserve, said. 
He recently partnered with the New Mexico Direct Caregivers Coalition to find new ways to improve the job quality of home healthcare workers. The initiative brought together key service and training providers to create accessible career pathways for traditionally low-skill, low-wage workers.  Steve worked with the coalition to identify new approaches and to build local and national partnerships. 
Steve also recently published Engaging Workforce Development: A Framework for Meeting CRA Obligations which was produced in conjunction with the Dallas Fed, and was mentioned by Federal Reserve Chair Janet Yellen during a recent speech.
"This publication is being used to support banks in their efforts to impact their local communities by developing strong partnerships that meet the needs of both workers and employers," he said.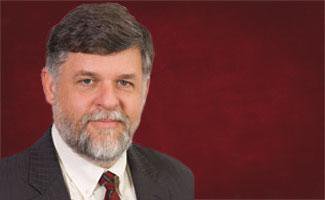 Steve has been in the community development field his entire career. He started in the Peace Corps in Kenya as a small business advisor and then worked with other organizations in the region for about six years. Before taking the position in the Kansas City Fed's Oklahoma City Branch Office, he was in Washington, D.C., with a development organization and often partnered with Federal Reserve Board staff on projects.
"I was interested in the Oklahoma City position because of the Kansas City Fed's reputation and work and because it provided an opportunity to work closely with area community organizations," he said. 
According to colleagues, Steve is widely respected throughout the organization, where he is known to have a strong sense of creativity and expertise on things to do and see in the small towns across the District. 
This year, he's representing the Kansas City Fed on a Federal Reserve System initiative called External Link"Investing in America's Workforce". He recently hosted eight roundtables across the seven-state district. The roundtables provided the opportunity to hear about workforce development needs and challenges from businesses and workforce development organizations. Key themes identified from the roundtables will be brought together to inform a national workforce development conference in Austin, Texas, on October 4-6 in partnership with the Federal Reserve System, the University of Texas at Austin, Rutgers University and the Upjohn Institute. Steve is in charge of developing the agenda for the conference, which will focus on issues related to the future of workforce development and the needs of industries.
A Texas native, he studied marketing as an undergrad at Texas A&M. During that time, he did a six-month internship with a rural development program in India, which sparked his interest in community development.
Steve lives in Norman, Oklahoma, with his wife and teenage son and daughter, along with a petting zoo: three dogs, two cats, two rabbits, two pigs, two goats and 10 chickens. He is active with Boy Scouts and Girl Scouts, part of a community disaster response team, and works closely with Goodwill Industries. 
Steve is an integral part of the community development team providing leadership to its workforce development programs throughout the Tenth District. For more information and updates about this work, please visit the Workforce Development webpage or contact Steve at steven.shepelwich@kc.frb.org.