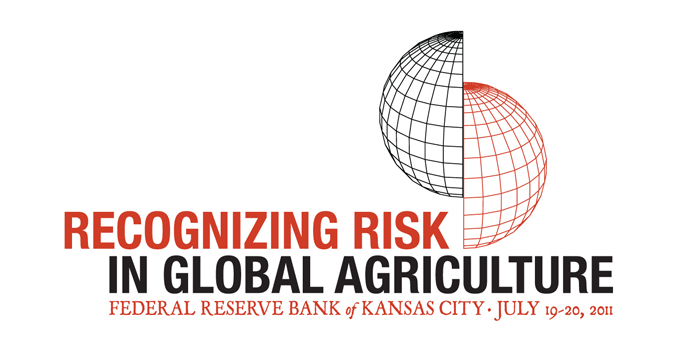 The 2011 Agricultural Symposium brought banking and business leaders, government officials, and academics together to explore the risks to agricultural profits in the 21st century. At the symposium, leading agricultural experts discussed how agriculture will balance global food consumption and production and overhaul renewable energy markets before examining agriculture's ability to weather unexpected downturns and use risk management strategies in volatile markets.
PDF2011 Agricultural Symposium Transcripts and Papers

Session 1: Balancing Global Food Consumption and Production
This session examined the risk to agricultural profits from shifts in global food markets. A speaker and industry panel explored global food demand and whether agricultural producers will produce too little or too much to satisfy global appetites. In addition, the speaker and panelists discussed emerging opportunities and risks in global food demand before exploring the risks of imbalanced food supplies.
Speaker:
JOSEPH GLAUBER, Chief Economist, U.S. Department of Agriculture
Panelists:
MIKE BARONI, Vice President, Economic Policy, Archer Daniels Midland Company
DAVID FISCHHOFF, Vice President, Technology Strategy & Development, Monsanto Company
Session 2: Overhauling Renewable Energy Markets
This session explored the opportunities, risks and side effects of renewable energy markets on agriculture. Speakers discussed how shifts in energy demand and production affect agricultural industries. Discussions also focused on the role of subsidies, tariffs and mandates in renewable energy markets and the requirements for a market-driven industry.
Speakers:
BRUCE BABCOK, Director, Center for Agricultural and Rural Development, Iowa State University
ROBERT MCNALLY, President, The Rapidan Group LLC
Dinner: Monetary Policy and Agriculture
Speaker:
THOMAS HOENIG, President and Chief Executive Officer, Federal Reserve Bank of Kansas City 
Session 3: Weathering Unexpected Downturns in Agriculture
This session explored the financial health of agriculture and the potential risks to the financial system from an unexpected downturn in agricultural profits. A speaker and panelists discussed whether the balance sheets of farms and agribusinesses are strong enough to weather smaller profits and falling asset values in agriculture. Discussions also explored who is financing the agricultural sector and how the financial system would respond to a weaker farm economy.
Speaker:
PAUL ELLINGER, Department Head, Agricultural and Consumer Economics Department, University of Illinois

Panelists:
EJNAR KNUDSEN, Portfolio Manager, Passport Capital
DOUGLAS HOFBAUER, President and Chief Executive Officer, Frontier Farm Credit, Manhattan, Kansas
JEFFREY GERHART, President and Chief Executive Officer, Bank of Newman Grove and Chairman-Elect ICBA
Session 4: Managing Agricultural Risks
This session described some of the strategies that farmers and agribusinesses have employed to manage emerging risks in the agricultural marketplace. A speaker and panelists described past and current trends in risk management and how the provision of risk management tools has evolved over time. Discussions focused on the balance between government and market-based risk management strategies and their implications on agricultural lending. 
Speaker:
MICHAEL SWANSON, Chief Agricultural Economist, Wells Fargo
Panelists:
CURT COVINGTON, Senior Vice President, Ag and Rural Banking Division, Bank of the West, Fresno, California
RICHARD BOWMAN, Head of Agribusiness, Bank of New Zealand
Closing Address
The closing session summarized the highlights of the conference and discussed the future of agriculture in the 21st century. 
Panelists:
BRUCE BABCOCK, Director, Center for Agricultural and Rural Development, Iowa State University
PAUL ELLINGER, Department Head, Agricultural and Consumer Economics Department, University of Illinois
MICHAEL SWANSON, Chief Agricultural Economist, Wells Fargo