On Tuesday, the Federal Reserve Bank of Kansas City's largest conference rooms were filled with music and enthusiastic students from Kansas City metro area high schools. As part of an innovative approach to sharing financial education with young people, the Kansas City Fed joined with Funding the Future, a nonprofit organization committed to teaching financial literacy to students, to bring a hip-hop duo, The Reminders, to the Bank to share their music and a message about being financially savvy.
External LinkThe Reminders, Aja Black and husband, Big Samir, find their musical inspiration in world, folk, reggae, hip hop and R&B music. They were inspired to share their lessons of financial responsibility with students after encountering their own money troubles as young adults.
"I think what's really innovative about this program is that we meet the students where they are," Ms. Black said. "In mainstream pop culture and in hip-hop culture, money is one of the most discussed things. Artists are always talking about throwing money away and being rich, but they never talk about how to be rich. They treat money as if it has no value. We are here to send a different message."
More than 300 students, representing schools such as Hickman Mills High School, Ruskin High School, Allen Village High School and Northeast High School, attended the program. Bank employees Kenji Walker and Jared Freemon kicked off the event by leading the group through a variety of quizzes and activities about understanding credit. Another employee, Casey McKinley, performed an original rap describing the Federal Reserve's mission.
Kansas City Fed President Esther George then welcomed the students, explaining how they play an important role in the economy by spending and saving, and she shared her hopes that they would be better prepared to plan financially for the future after the presentation.
The lights dimmed as The Reminders took the stage, shared a brief introduction and jumped into their set. Students rose from their seats to dance along with the duo and cheer their approval and support.
Janiqua Williams, a senior at Northeast High School, loved the energy of the presentation.
"It was a lot of fun," she said. "You think of financial education being a classroom lesson, but they're singers. I didn't think that would be what we did today. I loved them. They're cool."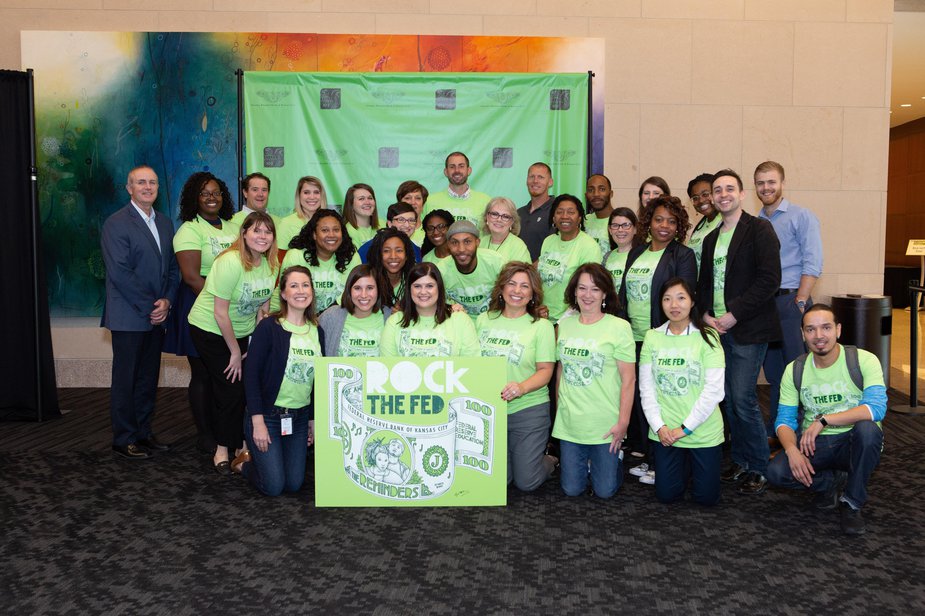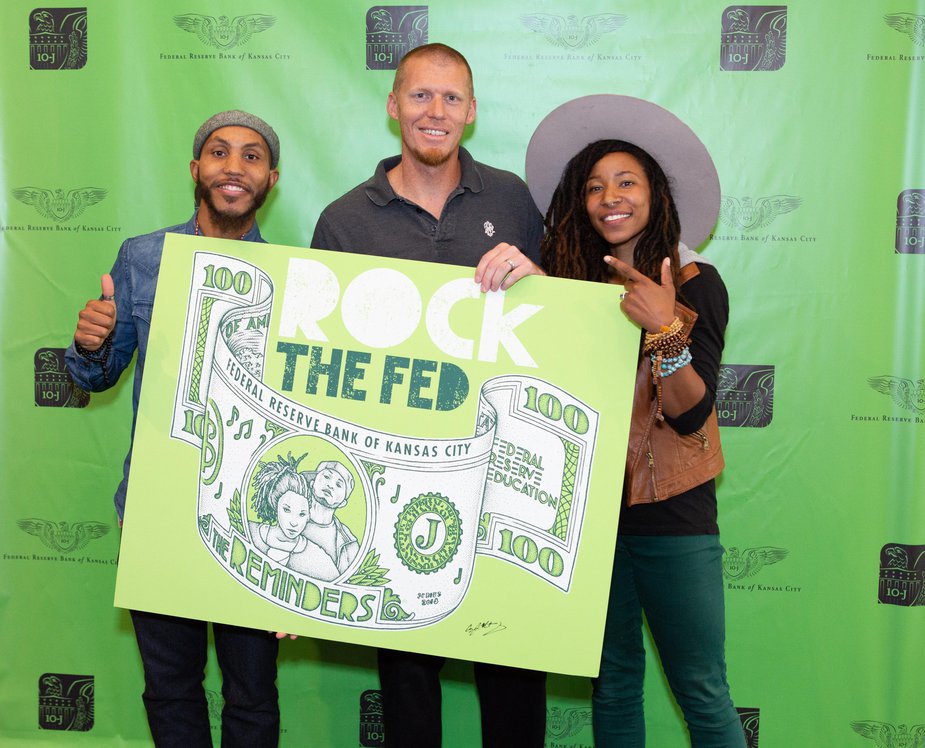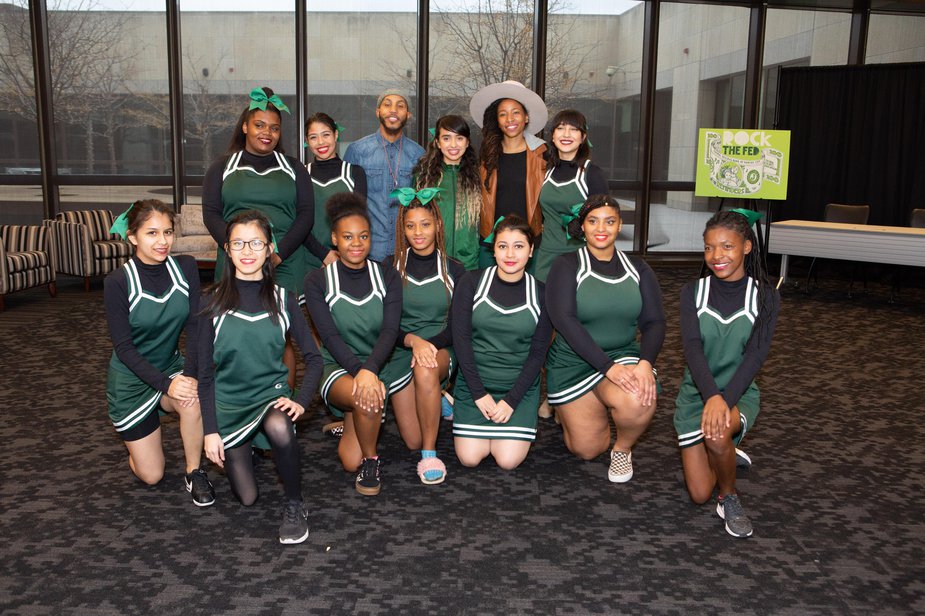 The Reminders engaged the crowd by inviting students to the front of the room to dance and sing, periodically breaking from the music to share stories from their lives and struggles from childhood. Ms. Black spoke of falling through a plate glass window at age 9 and returning to school after months spent recovering only to have children tease her for her appearance.
"That helped me realize that my scars are my battle wounds," she said. "This is what makes me me."
The Reminders shared stories of growing up in economically distressed areas and experiencing financial hardships in their family. Mr. Samir spoke of his mother taking out a payday loan without understanding the interest rate or repayment schedule, which resulted in a devastating cycle of debt.
"She always owed people money," he said, suggesting that students get comfortable with the idea of talking with their own parents about money and opening a personal savings account.
The Reminders shared an in-depth presentation about the importance of saving, having a budget, building credit, delaying gratification with spending, avoiding the dangers of predatory lending and making wise financial decisions.
Mark Hood, a junior at Allen Village High School, really enjoyed the music and the accompanying lessons.
"I liked how they incorporated their vibe with an educational vibe," he said. "It was really cool to see something like this happen. I will be careful with my credit score after hearing this."   
This is the second time the Kansas City Fed has partnered with Funding the Future to host a financial education concert for students. In 2015 and 2016, the Bank hosted the rock band, Gooding, to share music and financial educational lessons for students in both Kansas City and Denver.
The event was held in recognition of e's Federal Reserve Financial Education Day (FRFED) event this year. FRFED is an annual Federal Reserve initiative by the Reserve Banks to host a teacher or student focused financial literacy program in October. The Denver Branch held its event already and the Oklahoma City and Omaha Branches are coming up.
Educator Renee Alvarez with Northeast High School really enjoyed the way the message about financial literacy was delivered.
"This gave them things to think about with a way to present it and have it resonate," she said. "I would definitely recommend this."