Kansas City Fed volunteers support girls app camp
Carolina Banda's middle-school-aged daughter, Jessica, is always on her phone or the computer. At a weeklong day camp for girls, Jessica learned how to develop applications, or apps, similar to the ones she enjoys using in her free time.
The day camp was organized by the University of Missouri-Kansas City School of Computing and Engineering, with support from KC STEM Alliance and the Federal Reserve Bank of Kansas City.
"She likes it and has fun," Banda said. "They told her she's really good at it."
Throughout the summer, employees from the Federal Reserve Bank of Kansas City and volunteers from other area organizations mentored or judged final app projects for about 30 middle school and high school girls who attended the app camp. The camp is one way to encourage girls to eventually pursue a career in the STEM fields, which includes science, technology, engineering and math. Each week of camp, a new group of girls worked on approximately eight to 10 apps with the supervision of application development experts, such as Dawn Boydston, a Kansas City Fed employee who works in information technology.
"The reason for me being in technology today is due to people in my life encouraging me and bringing the possibilities to my attention," Boydston said. "I love to pay it forward and encourage girls to pursue technology and bring a positive message with me that they should set their sights high and that they too can be successful in a technology career."
Stephanie Stratemeier, a Kansas City Fed vice president in the information technology area, volunteered at the app camp because she wanted to share her nontraditional route into a technology role with young women who are beginning to plan their careers.
"It was a great experience to get to know them all a bit better, hear about their week and the apps they were working on," she said. "They were all really creative from thinking of practical apps to apps they thought would just be fun. We all talked about how STEM learning can be integral to really any career now and into the future."
Stratemeier appreciated the chance to share her skills with the group.
"I think we should take advantage of every opportunity we have to connect with students and be positive role models who encourage them to keep learning and keep exploring STEM education," she said.
Hazel Cherry, an energetic middle schooler who taught dance moves to her mentors during the week, liked coding and producing apps.
"I'm thinking about engineering or architecture," she said of her future career plans. "This program gave me the experience as if I was an application developer. It basically gave me a boost."
Learn more about technology careers at the Kansas City Fed by visiting External Linkhere.
Summer @ the Fed program wraps up fifth year
The Federal Reserve Bank of Kansas City recently wrapped up its fifth year of the Summer @ the Fed program, which brings graduates from the Kansas City Fed's Student Board of Directors program back to the Bank as paid interns to lead financial education programming for elementary-aged children.
This summer seven college-bound graduates of the Student Board program returned to support the eight-week program. More than 700 children were reached during programming events at the Kansas City Fed or at off-site neighborhood locations, such as the Boys and Girls Club, Upper Room, Bethel Neighborhood Center and Operation Breakthrough. The interns led all the activities, which are designed to teach children concepts related to personal finance, such as budgeting, the difference between needs and wants, and opportunity costs.
"The days are exhausting, but they're fun, too," said Mylan Gray, a sophomore at Stanford University who served as assistant director of the program. "The time flies by."
In addition to coordinating financial education programs with nonprofit organizations throughout the Kansas City metro area, the Summer @ the Fed interns participated in professional development meetings and training programs to prepare them for their careers. Employees of the Bank served as coaches and mentors to the interns.
"They taught us to always move forward, but to help others as much as possible when we do," said Wasiba Hamad, a Summer @ the Fed intern who is in her first year at Donnelly College.
Learn more about Summer @ the Fed External Linkhere.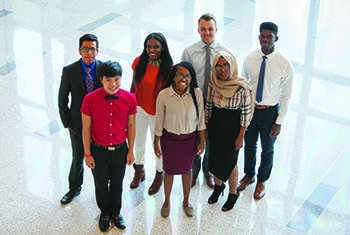 Kansas City Fed's Nielsen honored with Taylor Award
Sara Nielsen, a Federal Reserve Bank of Kansas City employee in banking supervision, was one of six 2015 recipients of the William Taylor Award for Excellence in Bank Supervision in the Federal Reserve System. The award recognizes those individuals who have demonstrated sustained and extraordinary achievement and professionalism in the performance of their responsibilities.
Nielsen was recognized for her contributions to bank supervision throughout her tenure at the Bank, as well as through her leadership of Federal Reserve System information technology supervision initiatives. Most recently, she showed noteworthy leadership in the development of a program that helps implement the new cybersecurity examination program for state member banks, holding companies, and U.S. branches and agencies of foreign banking organizations with less than $50 billion in assets. In addition to her efforts in implementing the cybersecurity examination program, she has worked to standardize the approach to assigning IT ratings at supervised institutions.
"There had been a need for a long time to have a standardized information technology work program across the Federal Reserve System to strengthen our work in conducting cybersecurity assessments," Nielsen said. "I am so proud to have some part in standardizing information technology exams across the System."
The award commemorates William Taylor's integrity and outstanding contributions to both the Federal Reserve and the banking system as a whole, and represents the supervision function's highest honor. The award was established in Taylor's memory after he died of a heart attack at 53. Taylor had served as director of the Division of Banking, Supervision, and Regulation for the Board of Governors of the Federal Reserve System in Washington, D.C., from 1984 to 1991. Following that, Taylor had been chairman of the Federal Deposit Insurance Corp.
Read more about the Kansas City Fed's work in banking at www.KansasCityFed.org, and for more information about Bill Taylor, read Integrity, Fairness and Resolve: Lessons from Bill Taylor and the Last Financial Crisis, available on the Kansas City Fed's website.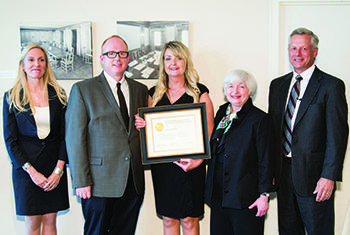 Chamber recognizes Kansas City Fed as a 'Champion of Diversity'
In July, the Federal Reserve Bank of Kansas City was awarded the Champion of Diversity award by the Greater Kansas City Chamber of Commerce and recognized for its active commitment to valuing diversity and inclusion.
"At the Bank, we are focused on ensuring everyone feels like it is their job to promote diversity and inclusion," said Kansas City Fed President Esther George in a video that was shown before the Bank accepted the award.
The award recognizes a regional business that embraces diversity in its workplace, vendor partnerships and the community. The Kansas City Fed was selected from 20 corporate applicants as this year's winner because the organization has demonstrated that diversity is core to its people, practices and partnerships. Donna Ward, senior vice president and director of the Bank's Office of Women and Minority Inclusion (OMWI), and Andrea Hendricks, assistant vice president and OMWI deputy director, accepted the award for the Bank.
"We are very honored to accept this award on behalf of our 1,700 Bank employees," Ward said. "We believe this award reflects our Bank's commitment to diversity in people, business practices and business partnerships."
"Diversity and inclusion is central to everything we do," Hendricks said. "We want to ensure our diversity reflects the community we serve. This award allows us to tell our story."
The event included a panel discussion among representatives of local companies who spoke about challenges and best practices related to diversity and inclusion at their workplaces. Three individuals from the Kansas City area were recognized for their outstanding commitment to diversity.
"This is a great opportunity to see innovative ways that diversity and inclusion is happening around the city and celebrating the good things we do at the Bank," said Chris Constant, a Kansas City Fed employee who attended the awards event. "It's up to us to carry it forward and continue the path that we are on."
Learn more about the Kansas City Fed's commitment to diversity External Linkhere.
Register for the Kansas City Fed's Accounting & Auditing Forum
The Supervision and Risk Management Division of the Federal Reserve Bank of Kansas City is hosting its 24th annual Accounting & Auditing Forum on Nov. 8 in Denver and Nov. 9 in Kansas City, Mo. Michael Gonzalez of the Federal Reserve Board's Division of Banking Supervision and Regulation, Washington, D.C., will participate in this year's discussions. The Kansas City Fed's Paul Oseland, supervising examiner and accounting specialist, will present.
The primary goal of the forum is to share knowledge about emerging accounting pronouncements and related examination issues while enhancing communication with the Federal Reserve. About 200 bankers and accounting and auditing professionals are expected to attend.
For the Accounting & Auditing Forum agenda, visit KansasCityFed.org. There is no charge for the event, but registration is required.  Registrations will be accepted through Oct. 31. For questions, contact Lisa Aquino at 1-800-333-1010, extension 8812491, or by email at Lisa.Aquino@kc.frb.org.