Download Article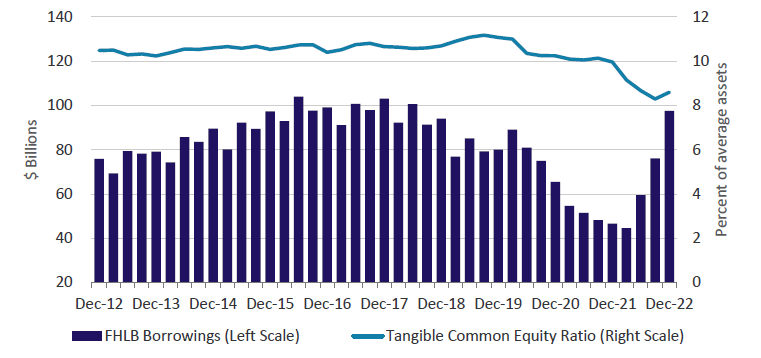 Community banking organizations_ (CBOs) have increased Federal Home Loan Bank (FHLB) borrowings for three consecutive quarters, driven primarily by short-term advances (maturing in one year or less). FHLB borrowings totaled $97 billion in 4Q 2022, more than double the low in 1Q 2022. CBOs have increasingly turned to FHLB borrowings to support continued loan growth with more limited asset-based liquidity options, such as cash and securities.
Unrealized loss positions in available-for-sale (AFS) securities portfolios grew substantially in 2022 due to the increasing interest rate environment. While not reflected in regulatory capital measures, unrealized losses place downward pressure on tangible common equity (TCE) and caused the TCE ratio to fall to a historical low in 3Q 2022. In response, industry leaders have emphasized the importance of understanding the potential impact of declining TCE, including FHLB borrowing restrictions on making new loans to banks with negative TCE._
Despite continued increases in short-term rates, the number of CBOs with negative TCE declined from 30 in 3Q to 19 in 4Q 2022, and the TCE ratio improved to 8.6 percent. Further impact on unrealized losses was limited largely due to stability in long-term interest rates and CBOs repositioning their securities portfolios in recent quarters, shifting securities from AFS to held-to-maturity (HTM)_.
Questions or comments? Please contact KC.SRM.SRA.CommunityBankingBulletin@kc.frb.org