As a licensed pilot and aviation advocate, new director Trish Minard sometimes is, quite literally, in the clouds. However, when it comes to sharing the story of how community banks are serving customers in the nation's heartland, her feet are firmly on the ground
Minard, president and chief executive officer of Southwest National Bank in Wichita, was elected this year to the Federal Reserve Bank of Kansas City's Board of Directors. She said she was excited to join the board, in part because she gets to set the record straight about how community banks operate
"During the Great Recession, banks all got painted as being bad guys," Minard said. "But community banks are different than the big investment-money banks—they serve their role, and they're important too—but we, as community banks, would never harm our customers. And I just want to give a voice to that and represent Wichita, south-central Kansas and community banks."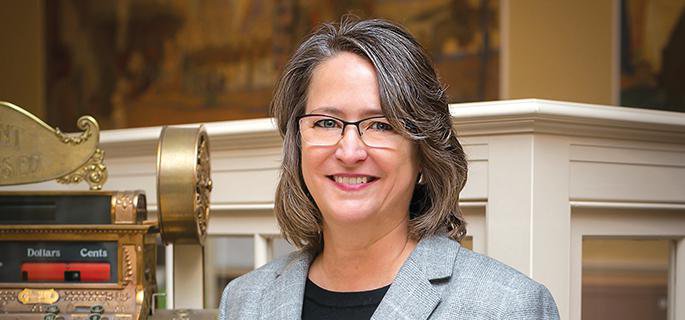 Southwest National Bank has eight locations in the Wichita area. Minard joined Twin Lakes National Bank in 1999 as a compliance and loan review officer and became president in 2001. She led Twin Lakes' merger with Southwest National. Earlier in her career, Minard was a national bank examiner for the Office of the Comptroller of the Currency and a certified public account specializing in banking.
She has been a member of the Kansas Bankers Association Bank Management Committee and the Kansas City Fed's Community Depository Institutions Advisory Council.
Away from banking, Minard's passion for aviation is well-known in Kansas, as are her efforts to encourage more women to become aviators. Officially she is "a commercial multiengine seaplane instrument-rated pilot," and she participates in the Air Race Classic, an annual transcontinental air race for female pilots.
On the Kansas City Fed's board, Minard is hoping to learn as much as she shares.
"I'm completely thrilled with this opportunity," she said. "I think I'm going to gain a much greater understanding of the economy and the economic drivers, and I want to bring that home to my bank and my community and try to improve both."
Learn more about Ms. Minard here.