Since being selected in November as a director for the Kansas City Fed's Omaha Branch, Dwayne Sieck's title at Mutual of Omaha Bank has changed. What hasn't changed since his promotion is his desire to learn about other industries and share his own expertise with Tenth District leaders.
In February, Sieck became president and chief operating officer at Mutual of Omaha, where he has held several leadership positions since joining the bank in 2008.
"My primary function is to ensure we execute the strategic plan that was set forth by our board of directors," Sieck said. "Functionally that includes all areas of the bank—lending, deposits and operations. We try to extract what the marketplace's needs are and come up with solutions and structures that allow our clients to operate their businesses better and more efficiently. We do this by understanding the movement of money in and out of a client's business.
That kind of ground-level insight into the needs of clients is one of the perspectives that Sieck hopes to bring to the Omaha Branch's Board of Directors.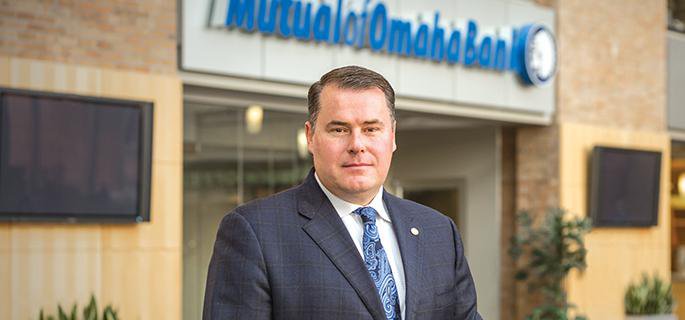 "First of all I was honored to be asked to consider joining the board," Sieck said "I think that as a fellow banker, it's an honor to be involved in how our monetary system functions."
Sieck said he was especially appreciative when Kansas City Fed President Esther George visited Omaha and "met with a few of our senior team members … She took a boots-on-the ground approach to developing industry insight for her region."
"I think it's vital that we make decisions in the banking system that are real-time and forward-looking," Sieck said. "And so I think that I can contribute to that mission that the Fed has … to listen and understand and be those boots on the ground to assist the Fed on what's really going on."
Sieck said he is equally eager to learn from directors outside the banking sector.
"I hope to gain an even better perspective from other directors in terms of the industries that they operate in," he said. "As an example, at the first meeting I had in Kansas City, there was one of the lead cotton farmers, one of the lead executives in the health care business … another was in the fuel business. So what I hope to gain is to become even more educated and more well-rounded in industries that I haven't participated directly in to fully understand how monetary policy can really impact their business."
Learn more about Mr. Sieck here.