Every day is a new and unique challenge for Doug Stussi, who spends much of his time with business development as CFO of Love's Travel Stops and Country Stores.
Love's is a family owned business, founded by Tom and Judy Love, with headquarters in Oklahoma City.
"We are a retail fuel business and have diversified extensively in both the fuel wholesale and logistics businesses and retail businesses that touch our travel stops and convenience stores," Stussi said.
In addition to 280 travel stops, 60 convenience stores and 200 truck tire-care and roadside service facilities, Love's recently entered the budget-value hotel and self-storage industries. In 2014, the company began offering invoicing services to trucking company customers.
Love's wholesale fuel and logistics business includes more than 480 transport trucks and 1,000 rail cars that transport refined products, biofuels, crude oil, diesel exhaust fluid (DEF) and compressed gasses; crude oil and ethanol-based railcar loading terminals; DEF dilution and bulk terminal facilities; shipping on all major refined products pipelines; and trading in both the physical and financial refined products markets.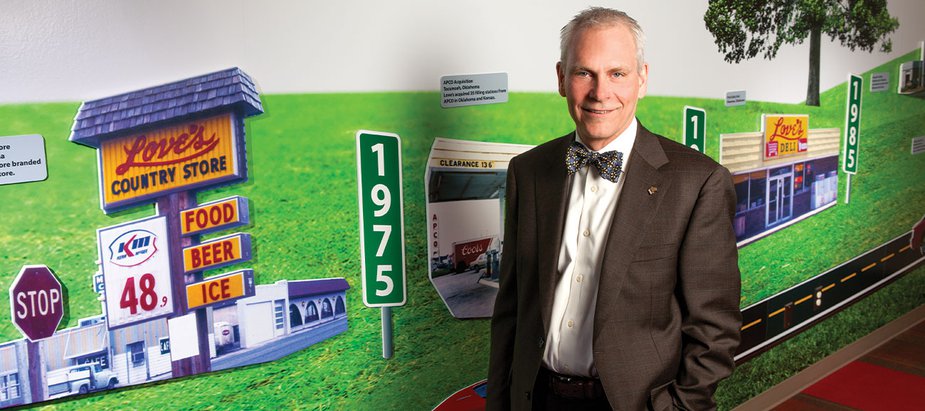 Besides business development, Stussi, who is a director on the Federal Reserve Bank of Kansas City's Oklahoma City Branch Board, manages the company's relationship with its external capital partners and helps develop the strategic direction of its accounting, tax, treasury, credit, H/R, risk management and risk control departments, he said.
He wants to use his knowledge and perspective from a private, family-owned business, his accounting background and experience in the business community of central Oklahoma and the nation in his role as a director.
It will give him "a sense of fulfillment if I can be in some way helpful in fulfilling the mission of the Federal Reserve Bank, not only in the Tenth District, but nationally," he said.
Stussi also sees being on the board as an opportunity to learn about the economic drivers and conditions of the region and gain knowledge "just sitting in the same room with lots of really bright folks." He said this knowledge will help him improve as a CFO and in his service to the Love family.
Learn more about Mr. Stussi here.