Over the next six years, states and U.S. territories will receive $42.5 billion to expand broadband access. This unprecedented infusion provides an opportunity to connect millions to high speed, affordable broadband. An additional $2.75 billion will fund programs to provide people with the digital skills, computers and support needed to participate in the digital world, $1.5 billion of which will go directly to states, U.S. territories, Indian Tribes, Alaska Native entities and Native Hawaiian organizations. An additional $1.25 billion will eventually be made available more broadly through competitive grants to nonprofits, libraries and other organizations. All of these programs are explained in greater detail External Linkhere.
Receiving internet access is a baseline, like having clean water or electricity. The economic impact of jobs and contracts flowing to these communities could have a long-term, sustainable impact on poverty levels and median household incomes. To be effective, the funds must be spent where they're most needed. Limitations with current data, however, make it difficult to map current internet availability, pricing, reliability and speed. Such data limitations require community outreach to better understand where broadband is most needed and the barriers that prevent people from subscribing to it when it is available.
No one existing set of data provides all the information needed. However, by combing several data sets, we can identify where broadband most likely does not exist. Within these areas we map the following:
Most densely populated areas without broadband: Extending broadband service in these areas will reach more people per mile, allowing internet service providers to get more customers (and revenue) per dollar invested. Such areas will likely need less government subsidy per mile served than less densely populated areas.
Least densely populated parts of Missouri: Extending broadband service in these areas will reach fewer people per square mile. That's not to imply these residents shouldn't get the same quality affordable broadband as residents in more populated areas. Rather, the intent is to identify which areas may be unprofitable for traditional internet service providers and therefore may require larger government subsidies, alternative business models, or both.
We also know that, even when high-speed internet (broadband) is available, barriers often prevent people from subscribing. (We explain this in more detail below.) In this case, the barrier may be cost, but there also may be other issues at play. We therefore identify the parts of Missouri that have higher shares of households without a broadband subscription. Digital inclusion efforts, while needed across the state, may be most productive in these areas.
For all three scenarios we use Missouri as an example. The same data sets exist for other U.S. states, so a similar analysis is possible for them, as well.
State leaders play a larger role in deploying funds
Previous Federal broadband programs sent funding directly to the internet service providers (ISPs). The $42.5 billion Broadband, Equity, Access and Deployment program (BEAD) is different in that it gives the funds to the states and allows them to administer how and where the funding is invested. The Digital Equity Capacity grants go one step further in providing states with $1.5 billion for things like digital skills training, affordable devices and discount internet programs. States will need to ramp up capacity to manage and implement both funding programs and provide ongoing oversight to ensure projects meet program requirements.
So, what can state leaders do to ensure funds are deployed effectively?
First, let's envision our end goal. When it comes to conquering the digital divide, the "end" will come when all Americans have:
Internet at home that is affordable, high-speed and reliable
Internet-enabled devices that meet their needs
Access to digital literacy training
Quality technical support
Applications and online content that enable and encourage self-sufficiency, participation and collaboration
Collectively, these elements comprise the foundation of digital equity. To picture success for the BEAD and Digital Equity Capacity grant programs more succinctly, we might envision it by asking two questions:
Have we ensured that the areas that need broadband get it? This question requires that we identify where broadband is not currently available and then implement solutions to get broadband there. Using Missouri as an example below, we identify areas where broadband-speed internet isn't available.
Once broadband is available to every resident and business in the state, have we ensured that all will benefit? To guide our efforts, we might start by asking residents who could sign up for broadband, why they haven't, and what would make them want to sign up. To target this outreach where it may be most effective, we identify the parts of Missouri with the most people who are not subscribed to the internet where it likely exists.
Where is broadband most needed?
Let's talk about speed. Internet speed is measured by how quickly data can be downloaded (think retrieving an email or watching an online tutorial) and how quickly data can be uploaded (sending an email or classroom assignment). Internet speed is measured in megabits per second (Mbps). The Federal Communications Commission (FCC) sets the minimum internet speed for what can be advertised as broadband. In 2010 the External LinkFCC's minimum speed for broadband was 4 Mbps "down" and 1 Mbps "up." In keeping with increased speed requirements for end users, in 2015 the FCC raised the minimum speed to 25 Mbps down and 3 Mbps up. With expanded use of streaming video for things like telehealth services, remote work, and other newer internet uses, projects funded through the BEAD program must provide minimum speeds of at least 100 Mbps down and 20 Mbps up. This will have a major impact on Missouri communities where residents are unable to get 4/1 speeds, much less 100/20 speeds.
Where do the most Missourians without broadband live?
Answering this question is more complicated than you might expect. The Federal government requires ISPs to report where they provide service and at what speed. Unfortunately, this information has been found to be inaccurate because many providers say they provide service to areas they don't. External LinkThis article explains the issue in greater detail, and also explains what the FCC is doing to fix it. In short, the FCC is changing how ISPs must report their coverage. While the data will still be self-reported by the internet providers, the changes to how the data are reported is expected to, at least somewhat, improve the maps. The first round of revised maps is expected in September 2022.
Until more accurate maps are available, we can look at other data sources to get a clearer picture of where 100/20 service is not available. One of these is the American Community Survey (ACS).
Through External Linkthe ACS, the U.S. Census Bureau collects information from about 3.5 million households annually. Among other topics, the ACS asks respondents:
Do you or any member of this household have access to the Internet using a-
Cellular data plan for a smartphone or other mobile device?
Broadband (high speed) Internet service such as cable, fiber optic, or DSL service installed in this household?
Satellite Internet service installed in this household?
Dial-up Internet service installed in this household?
Some other service?
Combining the most recent ACS and FCC data for Missouri provides direction as to where broadband does and doesn't exist, and how many people live in those areas.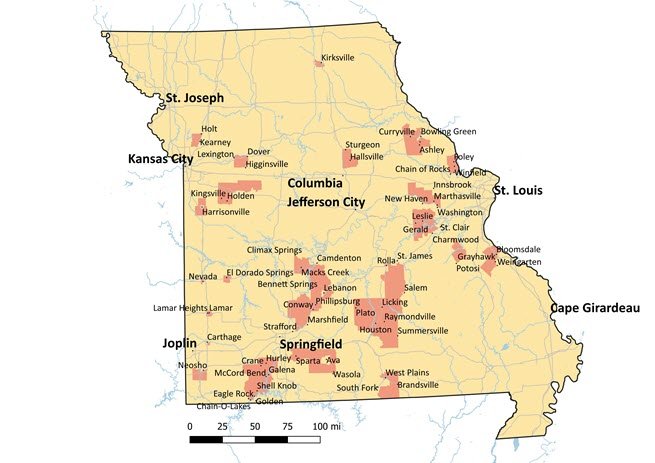 Collectively, the areas in red represent nearly 100,000 households without access to 100/20 broadband. With more people per square mile, expanding broadband in these areas could get more people access per dollar invested. Also, because of higher density, ISPs here would have a better chance at profitability than in less populated areas.
These parts of Missouri represent the most people who likely don't have broadband and, given the relative population density compared with other areas without broadband, may be the most cost effective to reach.
Which Missourians will be the hardest to reach?
In the most rural parts of the state, it will cost more per person to connect households. If it costs $25,000 to install one mile of broadband along a road and there are 10 homes along the road, that comes out to $2,500 per home. But if there are only two homes along that road it will cost $12,500 per home.
Traditional for-profit internet providers have a harder time making a profit in such low-density areas. Nonprofits, like co-ops, don't have the same financial pressure to make a profit and may be better positioned for success in these areas. Both co-ops and for-profit ISPs will need greater state and federal subsidies to build broadband here than in more densely populated parts of the state.
Limited ACS and FCC data makes it challenging to identify internet service availability in the most rural areas. However, given the business model challenges in providing broadband service in these areas, it is highly likely they are not well served. The map below identifies the least densely populated parts of Missouri, with two to five households per square mile in pink, and zero to two households per square mile in red.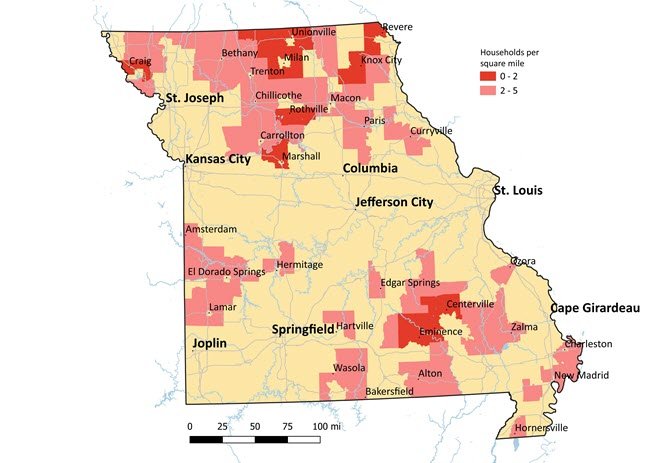 A cautionary tale: Building broadband doesn't mean everyone can or will use it
Larger cities have the population densities that should make broadband available to all at an affordable price. You would expect larger cities, then, to have a high percentage of the population with internet subscriptions, what's referred to as "uptake." This isn't the case, though, as shown in the map below for Kansas City. See more maps of unsubscribed areas for other urban communities in Missouri at the bottom of this page.
Using ACS data, the highlighted areas identify the number of households per square mile that are not subscribed to the internet at broadband speeds by census tract.
There are several likely reasons why these households don't have a broadband connection at home. The first issue is what's referred to as External Linkdigital redlining. When digital redlining is present, it means that ISPs haven't upgraded their infrastructure in lower-income areas to the same extent as they have in wealthier neighborhoods. What service is available may be too slow and unreliable to use yet cost just as much as higher speed service available in wealthier neighborhoods. Such areas may need broadband investment, just like some of their rural counterparts.
Three additional reasons why city dwellers may not have an internet subscription include:
Affordability—Purchasing a computer and a $70 internet subscription may not be realistic for families living paycheck to paycheck. The newly created External LinkAffordable Connectivity Program (ACP) provides subsidies to qualifying households to cover a portion of the cost of an internet subscription and towards the purchase of a computer. Income guidelines for the ACP are 200% of the poverty line. A single parent making $37,000 a year might find it difficult to make ends meet every month, yet they'd still make too much to qualify for assistance under the ACP. Other solutions are needed to connect such households.
Lack of awareness and trust: Trusted community partners—nonprofits, schools, churches — can play a role in informing their communities about programs like the ACP, and help people subscribe. The FCC created this External Linktoolkit for community partners with information about program requirements, benefits and how to compare plans.
Lack of digital knowledge and confidence. An elderly couple, for example, might think the internet isn't relevant to their needs. But what if they knew how to use it to meet with doctors remotely, video chat with their friends and grandchildren, and had the skills and confidence to do so?
Planning ahead will make the most of infusion of funds
Over the next several years, the BEAD program will provide states and U.S. territories about $42.5 billion to expand affordable broadband access. The Digital Equity Capacity program will provide states and territories an additional $1.5 billion for programs to provide people with the digital skills, computers and support needed to use that broadband. Being skillful and data-driven will go far in making the most of this unprecedented infusion of funds.
Maps of other Missouri metro areas show where people are unsubscribed from broadband