When Jade Piros was hired as the Kansas Broadband Director in the spring of 2022, she took responsibility for huge tasks that needed to be done quickly. Kansas, along with all other states and U.S. territories, would soon be eligible for tens of billions of dollars in federal funding to expand high-speed broadband. Billions more were targeted to provide people the skills and devices to effectively use broadband. Combined, these programs offer tremendous opportunity to connect people to jobs, learning, the economy and community. But bringing these opportunities to fruition won't be easy. The federal government requires Jade and her peers to develop plans for how they will invest the funds to meet community needs. Data must be collected outlining the scope of the issues. The community must be engaged in the process. Outcome measurements must be developed. Jade needed to assemble a team fast, in a tight labor market. All of this in just a little more than one year. The clock was ticking.
Jade and her peers needed help learning program requirements and developing strategies to narrow the digital divide. Fortunately, the Federal Reserve anticipated these needs and had support ready.
Act marks first-ever federal funding of digital equity programs
The Infrastructure, Investments and Jobs Act [IIJA] generated excitement when President Biden signed it into law in November 2021. For the first time ever, the federal government would fund digital equity programs to the tune of $2.75 billion, with the first wave of funding going to states, U.S. territories and tribal governments (collectively referred to as "states" throughout this article).
Digital equity programs offer a combination of digital skills training, low-cost internet access and computer devices. Combined, these elements make it possible for individuals and households to increase their knowledge, income, and quality of life.
The digital equity community started assessing the details. States could apply for one-year planning grants to outline the digital equity needs within their state, and how additional digital equity funding would address those needs. Upon approval of the plans by the federal government, states would receive five years of funding to implement the plans.
The administration paired the digital equity pot of funding with the much larger Broadband, Equity, Access and Deployment (BEAD) program. BEAD is a $42.45 billion program to expand high-speed internet access. BEAD also requires a five-year plan. States must develop both the digital equity and broadband plans together, which makes the digital equity plan more important for receiving federal funding than the dollar amount would suggest. States have just one year to develop the digital equity plans.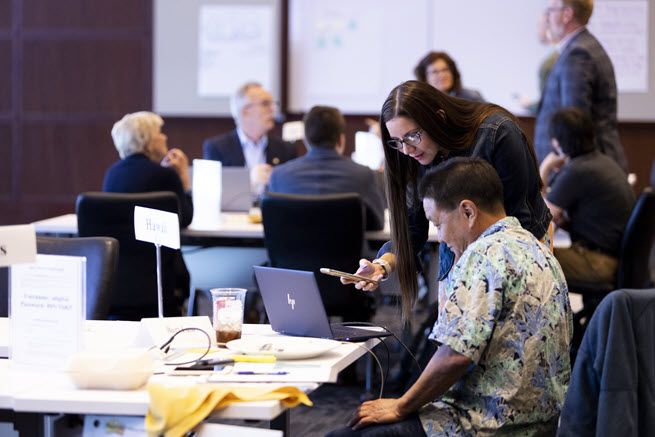 Challenges quickly emerge
Federal, state and local leaders were all starting from scratch; this pot of funding had not existed before. The first step was for the National Telecommunications and Information Administration (NTIA) to quickly create the program requirements, which were released through the External LinkNotice of Funding Opportunity [NOFO] on May 13. States then had until July 12 to decide if they wanted to apply for a one-year planning grant.
Keep in mind, when Congress passed the IIJA and BEAD, few states had any digital equity staff or related programs. States rushed to get new positions approved knowing that the hiring process could take months. The digital inclusion field was also relatively new and small, so finding qualified candidates in a tight labor market would be a challenge.
These were not the best of circumstances. Getting approval to apply for the funding and hiring staff also required convincing some state leaders of digital equity's economic benefits to their state.
The Federal Reserve tackles digital inclusion
While most states and territories were starting from scratch, the Federal Reserve was not. Digital inclusion (efforts to ensure everyone has affordable home broadband, along with the skills and devices to utilize it) has become foundational to just about every aspect of community and economic development. The Federal Reserve System's work in digital inclusion began long before the pandemic.
In 2016, the Dallas Federal Reserve published External LinkClosing the Digital Divide: A Framework for Meeting CRA Obligations. In 2017, I started an 18-month-long project that culminated in the 2019 publication, External LinkDisconnected: Seven lessons for fixing the digital divide. The publication demystified key issues of the digital divide and highlighted innovative organizations working to close it.
At the start of the pandemic, I worked with colleagues across the Federal Reserve System to form the Digital Equity Working Group. We had two goals: expand the digital inclusion work of the Federal Reserve Banks and identify collaborative opportunities to pool our knowledge and resources for broader community benefit.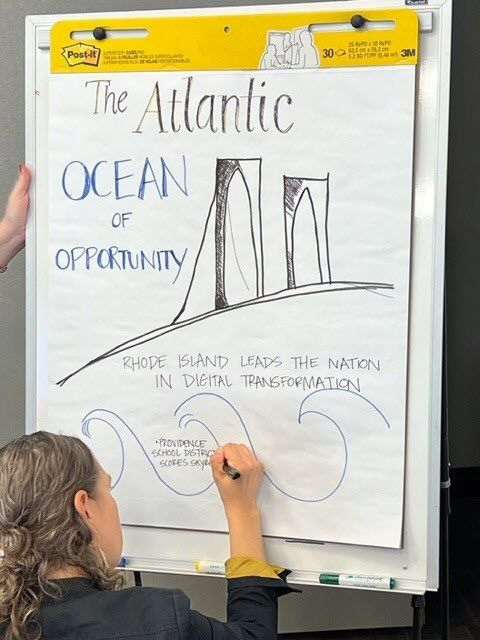 Reserve Banks around the U.S. sponsor workshops
When the IIJA was signed into law in November 2021, I contacted state leaders within the Tenth District to see how we could help them prepare. I shared their needs with my Federal Reserve colleagues, who also assessed needs within their Districts.
I contacted Angela Siefer at the External LinkNational Digital Inclusion Alliance to find out what they had planned. NDIA is a national nonprofit that had been beating the digital inclusion drum for years, raising awareness around the digital divide and educating community leaders about how to fix it. Both NDIA and NTIA (the federal agency administering the funding programs) would provide webinars and technical support for state leaders. Angela and I felt it was important to also provide in-person guidance. In addition, we wanted to give the newly formed digital equity teams the chance to work on developing their plans together, and to develop a national cohort of peers. On behalf of the Kansas City Fed, I contracted with NDIA to design and deliver a two-day, hands-on workshop that would foster peer learning and relationship building.
It wouldn't be feasible for teams from all 56 eligible states and territories to attend one workshop, so I talked to my peers at the other Reserve Banks about replicating the workshop in their districts. Even some Reserve Banks that did not focus specifically on digital inclusion decided to join because they saw its value in community development. As Otho Kerr of the New York Fed explained, "Today's economy relies heavily on high-speed internet. Any household that does not have access to high-speed internet – whether it's due to a lack of infrastructure, lack of affordability, lack of digital skills or some other barrier to access – doesn't have the same opportunities to thrive as connected households. Such families and individuals are at a disadvantage as far as access to education, telehealth, employment and more."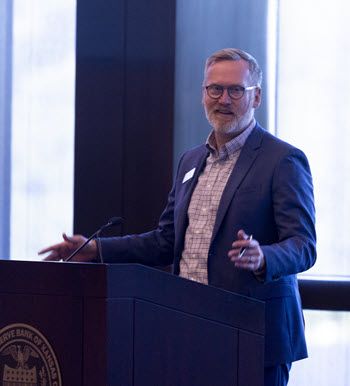 By the summer of 2022, nine Reserve Banks signed on to co-host seven workshops across the country, including the Federal Reserve Banks of Atlanta, Boston, Cleveland, Dallas, Kansas City, New York, Philadelphia, Richmond and St. Louis. Here is when workshops were held:
Charlotte, NC: Sept 14-15
Philadelphia, PA: Sept 20-21
Kansas City, MO: Sept 29-30
Dallas, TX: Oct 3-4
Louisville, KY: Nov 1-2
New York, NY: Nov 7-8
Denver, CO: Nov 30-Dec 1
Participating Reserve Banks informed state leaders about the workshops, identified where states were in their hiring process and who within state government should be invited. We sought to invite states to the workshop closest to them both to make travel easier and to help foster regional cohorts. Some states were further along in the hiring process than others, so my colleagues and I worked together with the goal of getting as many states and territories into the workshops as possible. Idaho and Utah, for example, formed their teams relatively early and attended the Philadelphia workshop.
NTIA had recently hired a corps of federal program officers (FPOs). The FPOs were deployed across the country to serve as NTIA liaisons with states; the workshops would provide an ideal opportunity for state leaders and FPOs to connect. We worked with NTIA to get as many FPOs as possible to the same workshops their assigned states would attend.
Of the 56 states and territories eligible to attend a workshop, 47 did
People attend an event only if they perceive its value. By that measure, the workshops were a success. Of the 56 states and U.S. territories that received digital equity planning grants, 47 attended the workshops.
We could have easily filled the workshops with hundreds of people interested in state digital equity plans. We intentionally didn't do that because it was important to target the workshops to those people responsible for developing the plans. We offered each state several registration spots to allow their newly formed teams to work through the content together and begin coalescing around how they'd tailor plan requirements to their state's unique needs. This team approach to the workshops was repeatedly praised by workshop attendees, including Anne Byers of Nebraska. "It was very helpful to have members of our team together to learn more about plan requirements and to start talking through aspects of our planning process."
Jade Piros and the rest of the Kansas team also attended. As Jade explained, "we all come to this work from different perspectives, and mine is the broadband side. I really appreciated the opportunity to exchange ideas and learn from those from the digital skills and affordable access fields. The workshop gave my team and I both resources and relationships that will help us succeed."
I attended six of the seven workshops. In my opening remarks I asked attendees to raise their hand if they'd been in their job for more than a year. Typically, just one or two hands would go up. Then I asked who'd been on the job for less than 60 days, and quite a few hands would go up. Attendees said they felt so much better knowing they weren't alone. They also expressed how helpful it was to exchange ideas with this new cohort. As Burt Lum from Hawaii said, "The timing and content of the Digital Equity Plan workshop was perfect for what we in the field needed to hear. Bringing all the states together gave us a chance to bounce ideas around, build comradery and implement a shared vision to advance our state and country for all."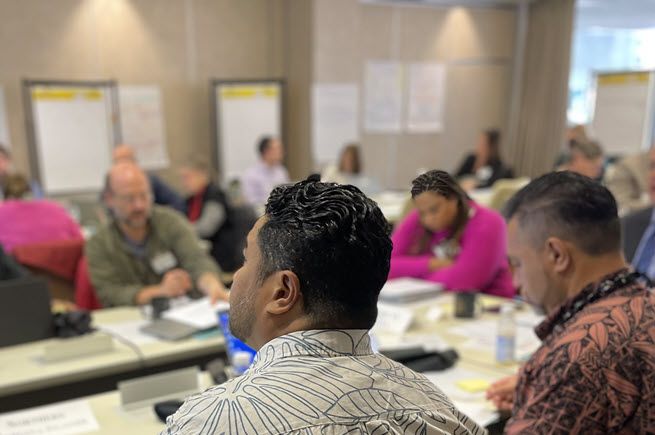 Here's why the Federal Reserve took action
Some of the state staff members we invited to the workshops were familiar with the Fed's community development work. Others were surprised to learn of the central bank's interest in digital equity.
At a high level, the role of the Federal Reserve is to support a strong economy. Most people see this through our work regulating banks, managing payment systems, and setting monetary policy. But we also know that that the economy is strongest when everyone has access to jobs, education and commerce. This is where the Federal Reserve's community development efforts come into play.
In general, our community development staff work to inform policy makers, government and nonprofit leaders about the issues affecting lower income and marginalized communities. We also work with them to advance solutions to those issues. We use a variety of approaches to this work, including conducting research, soliciting qualitative feedback from those in the field, publishing information and educating decision makers and convening community leaders. The digital equity workshop is just one example of this work.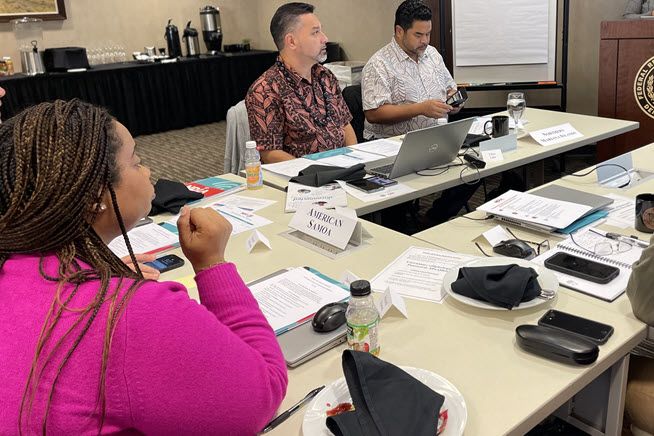 Reserve Banks seek to support states going forward
Attendees expressed interest in more peer group gatherings throughout the next year as they develop their plans. Some also asked for assistance with community engagement and data mapping. Participating Reserve Banks agreed that our support to states would not end with the workshops. The Federal Reserve Banks identified multiple opportunities to support states going forward.
In addition, we recorded the New York workshop and are currently editing that content for public release online, planned for January 2023.