In November, the Federal Reserve Bank of St. Louis and the Federal Reserve Board published Investing in Rural Prosperity. This new resource showcases stories of progress in different communities and highlights actions that can be taken by policymakers, practitioners, funders and researchers to advance shared economic prosperity across rural America.
Nearly 80 authors contributed chapters to the book, and represent financial institutions, nonprofits, philanthropies, academia and government agencies. The chapters touch on a range of topics, including entrepreneurship support, workforce development, energy-efficient manufactured housing and digital inclusion.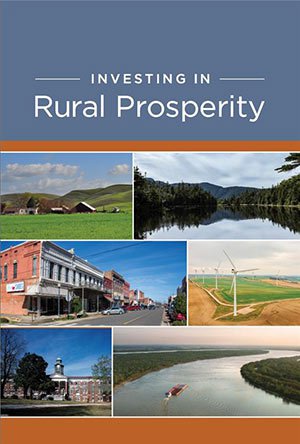 My work the past few years has focused on the digital divide, where I've elevated awareness of key issues of the divide and highlighted innovative approaches to narrowing it. Because of this work I was asked to contribute to Investing in Rural Prosperity.
I wrote about philanthropy's role in bringing broadband to rural America. I chose this topic because of the pivotal role foundations serve in the community, filling gaps where neither government nor the for-profit sector can. The chapter highlights the work of the External LinkHutchinson Community Foundation (Kansas), the External LinkBlandin Foundation (Minnesota) and the External LinkMaine Community Foundation. The chapter also provides tips to help philanthropists strengthen their digital inclusion efforts.
The book delves into the challenges of our past and the promise of our future in rural communities. Ultimately, Investing in Rural Prosperity is a call to action, so we can realize that promise—together.
Investing in Rural Prosperity is available for download in its entirety, and free copies may be ordered here External Linkhttps://www.stlouisfed.org/community-development/publications/invest-in-rural
The chapter, Bringing Broadband to Rural America: The Role of Philanthropy can be downloaded directly here. External Linkhttps://www.stlouisfed.org/-/media/project/frbstl/stlouisfed/files/pdfs/community-development/investing-rural/chapters/chapter15.pdf