Elected officials play a vital role in developing effective policies to narrow the digital divide. The topic has a steep learning curve that has officials nationwide searching for the latest data to inform their work. That's why I was asked to speak at one of several recent town hall discussions hosted by the Missouri House of Representatives' Special Interim Committee on Broadband Development.
The bipartisan committee is working to develop a better understanding of broadband's role across multiple aspects of everyday living, including education, entrepreneurship and economic development, government services, precision agriculture and telemedicine. As Representative Louis Riggs, the committee's chair explained, "For us to move forward as policymakers, we have to have a really clear picture of what's going on. We're trying to collect as much data as we can from all parts of the state."
Riggs said that they had many stories of how having or not having affordable broadband affects everyday life, but the committee was looking for supporting data to measure success. The committee asked, can we measure the extent to which affordable broadband improves educational outcomes, labor market participation, or population growth?
Fortunately, researchers constantly are adding to our collective knowledge. Armed with the most recent data and my face mask, I headed to Independence, Missouri, for the July 26 town hall. What follows is a recap of the information I shared along with highlights from the conversation.
While this focuses on Missouri, it can be a blueprint for making the case in other states, as comparable information is available through the cited sources.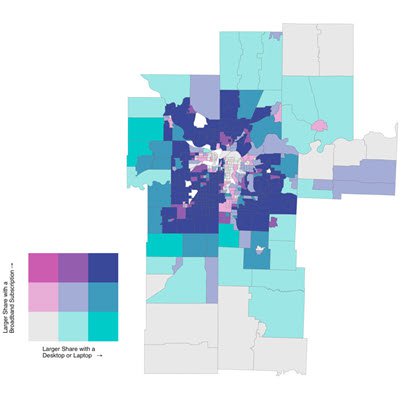 Is there a way to measure any economic boost from broadband?
Short answer: Yes. This June 2021, report from the External LinkFederal Reserve Bank of Philadelphia, "Broadband Subscription Computer Access and Labor Market Attachment Across US Metros," provides the following:
Across U.S. metros, we find that prime-age workers (people 25-54) with a broadband-enabled computer participate in the labor force at a much higher rate than prime-age workers without access.
An "access policy" that provides a broadband-enabled computer to unserved metro populations could affect prime-age labor force participation rates. Such a policy would add close to 400,000 additional participants to the labor force across metro areas. Note this only includes new job creation inside metro areas, as data for rural areas were unavailable.
The study looked at the percentage of households having both an internet connection and a computer in each of the 376 U.S. metropolitan statistical areas. In Missouri, only Columbia ranked high, coming in 37th on the list with 80% of households having both broadband and a computer. Kansas City and St. Louis were both midpack at 138th and 151st, respectively. The five other Missouri metros were at the bottom of the list: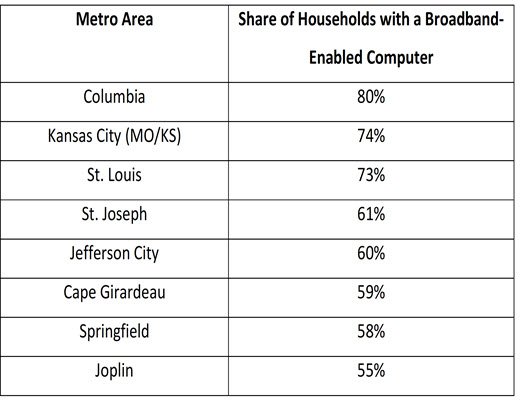 These rankings sparked questions and comments from the committee members. "Does the research imply that all is well in Columbia or Kansas City?" one committee member asked. He said he knew of people in the KC metro that definitely did not have the ability to subscribe to internet at anything close to broadband speeds, and therefore was questioning the relatively high rankings. I responded that even in Columbia, which ranked in the top 10% of metro areas, 20% of households lack the computers and internet needed for things like online learning, health care and economic opportunity.
The rankings weren't necessarily saying that everything was up to date in Kansas City (or Columbia). Access there is just less bad than in the other metros. I spoke to one of the study's authors, Alvaro Sanchez, about this after the town hall who clarified, "I think any discussion of this specific paper must take into account that the research is done at the regional level. However, a neighborhood-level study would find that, generally, across metros there are concentrations of low-connectivity neighborhoods."
Does data show an economic correlation to digital skills development?
Yes. According to the National Digital Inclusion Alliance's recently released External Linkthe State Digital Equity Scorecard:
As of June 2021, in Missouri there were:

182,956 job openings. Of these, 75% (137,217) require foundational digital skills.
161,000 unemployed Missourians, of which at least 53,000 lack foundational digital skills.
In other words, a lack of foundational digital jobs skills prevents 53,000 Missourians from being qualified for 137,217 jobs openings.
This sparked conversation about what are digital skills. In short, this doesn't mean having advanced computer programming skills, or things taught in traditional college courses. Kristen Wood from Goodwill of Western Missouri and Kansas also was at the town hall. She explained Goodwill's digital skill programs teach people the basics of using a computer—how to use a mouse, email and similar basic computer skills. Just knowing the basics opens the door to many jobs. In Missouri, that's 137,217 jobs, to be exact. Research also shows that External Linkjobs which require digital skills tend to pay more than the jobs that don't.
There's also research on the relationship between connectivity and population change in rural America …
One External Linkstudy examined population growth in the 420 most rural counties in the country. The study then broke the counties into five groupings based on how many residents had home internet ("connected"). Between 2010 and 2016, the most connected rural counties experienced an increase in population of 7.5%. This was the only group that saw population growth.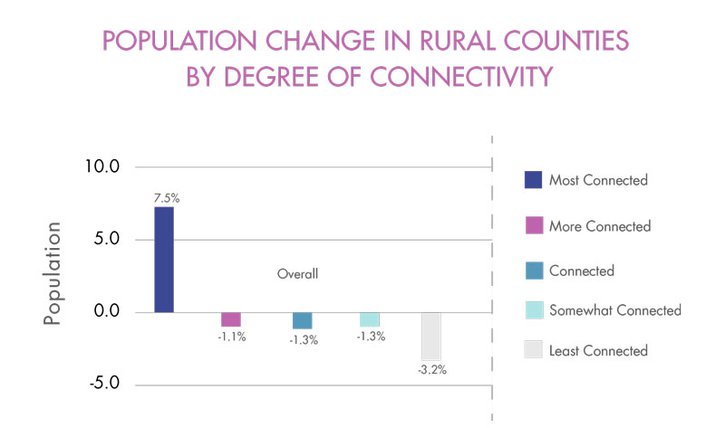 Perhaps not surprisingly, there weren't any questions about this relationship. Committee members shared firsthand knowledge of people not wanting to live in places that lack fast, affordable broadband.
… and on the correlation between computers and home internet on educational outcomes.
Some programs provide laptops to students so they can do their homework. Other programs, like the External LinkEmergency Broadband Benefit, provide subsidies to help pay for internet. Many question the effectiveness of providing just a computer or only internet, as noted in a special report from External LinkEducationWeek.
In 2018, Oklahoma State University professor Brian Whitacre conducted a small study to compare the degree to which providing internet in conjunction with a laptop improves educational outcomes. According to his External Linkfindings, "the small, randomized controlled trial suggests that simply providing alternative high-school students with Internet access is not enough to have a meaningful impact on student performance over the course of a semester. Rather, a combination of Internet access (hotspots, in this case) and tools to take advantage of that access (laptops) are more effective at generating improvements in scholastic achievement."
While Whitacre acknowledges that the study was small, it finds what seems logical: educational outcomes are improved only when students have access to both a computer and an internet connection. Educational efforts should, therefore, ensure students have both.
How many students lack a computer, internet, or both?
According to a recent report by Common Sense and the Boston Consulting Group, "External LinkClosing the K-12 Digital Divide in the Age of Distance Learning," far too many students lack an adequate internet connection, including:
37% of rural students
25% of suburban students
21% of urban students
Roughly 15-16 million students lack either a connection or a computer. Nine million lack both. In the age of distance learning, the report also noted a troubling fact: 300,000 to 400,000 K-12 teachers live in households without adequate internet, and 100,000 teachers lack adequate home computers.
Helping people find and sign up for low-cost broadband
Many internet providers offer discount internet plans for lower-income households. Some participate in the External LinkEmergency Broadband Benefit program, which provides internet and computer subsidies to lower-income households. We've heard from nonprofit organizations that their clients often struggle to find these programs, compare plans and sign up. Finding what programs are available, comparing speeds and pricing can be challenging for any consumer. Just imagine trying to do this when you don't have a computer or internet to do the research. Those who need help the most often are the least likely to have the time, technology (computer vs. shopping on a smartphone) or technical skills required to subscribe.
Communities nationwide are creating digital navigator positions to walk people through the process, help them shop around and subscribe. Digital navigators also may refer clients to digital skill training and organizations that sell low-cost computers.
In Kansas City, Leslie Scott does this part time for External LinkKC Digital Drive. She attended the town hall and shared stories of helping lower-income folks who qualify for discount plans to find what they're eligible for, compare plans and sign up. Even with her help it can be time consuming and confusing. "The low-cost plans aren't typically included in the list of plans on a company's website, so people may not be aware of them unless they hear about them from their child's school, the library or other trusted community organization. There's often a perception that low cost equals low quality, too. That's not necessarily the case for a lot of low-cost plans."
The topic of digital navigators also generated questions and discussion from the committee. Specifically, the group was interested in whether other states or communities were funding digital navigator positions, and if there were examples or sample job descriptions. Fortunately, work also has been done in this space:
There are many people contributing to research and data on closing the digital divide. To stay updated on the latest information subscribe to External LinkNDIA's listserve.