Ag Symposium Snapshots
The 2021 Agricultural Symposium explored the key drivers of the persistent growth in agricultural productivity, linkages to other industries, and environmental considerations. The stories below dive into those topics with real-world connections.
The stories behind Ag Symposium
Resources on the Ag Economy
Find articles summarizing recent developments in agricultural finance and lending.
The quarterly Ag Credit Survey provides current indicators of the financial performance of Tenth District agriculture.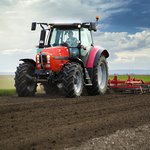 Review the latest Ag Bulletin for a summary of ag conditions and additional outlook articles on the ag economy.