Reassessing Constraints on the Economy and Policy
This year's theme will explore the emergence of economic constraints during the pandemic and how supply considerations have returned to center stage. Bottlenecks and shortages have limited economic supply even as historic levels of fiscal and monetary accommodation have led to a surge in demand, resulting in an imbalance that has pushed inflation up globally. Additionally, the extraordinary and often innovative global policy response to the pandemic invites questions on what constraints bind macroeconomic policy, such as concerns over fiscal sustainability and the ultimate size of central bank balance sheets.
View the 2022 agenda here.
45 Years of the the Jackson Hole Economic Symposium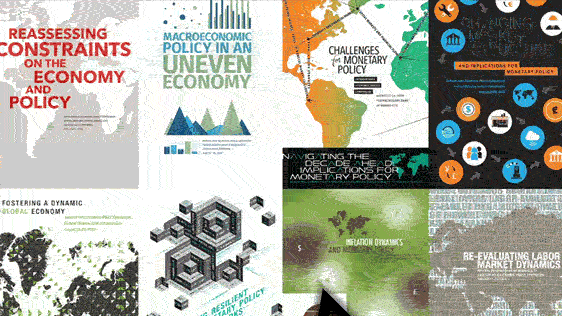 This year, the Federal Reserve Bank of Kansas City is commemorating 45 years of the Jackson Hole Economic Symposium. Each year since 1978, the Bank has invited prominent central bankers, finance ministers, academics, and financial market participants from around the world to the symposium in Jackson Hole, Wyo. The mission of the event is to discuss an important economic issue facing the U.S. and world economies.
The Economic Policy Symposium is one of the longest-standing central banking conferences in the world. Explore past symposium themes and materials here or view a historical timeline of the event.
The full history of the Jackson Hole Economic Symposium is detailed in the book "In Late August," free to download PDFhere.