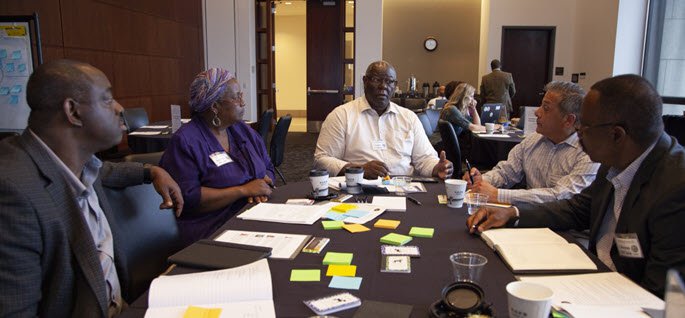 A new push for innovation within the Federal Reserve Bank of Kansas City has spilled over into the community. The Innovation Summit, in late June in Kansas City, Missouri, invited nonprofit leaders to learn how to encourage and manage innovation. 

"A lot of the problems that challenge us in the community are complex and difficult," said Dell Gines, a senior community development advisor who organized the pilot training. "We want to give people the tools to allow them to look at problems in a different way." 

Gines and members of the Bank's Innovation Team presented the one-and-a-half-days of training. Rachel Pacubas, an organizational development consultant with the Bank who was one of the trainers, said she was energized by the chance to share the concepts outside the Bank.   

"We can live very much in our own environment, but have a bigger impact on the community than many of us realize," she said.   

Participants at the top of their organizations 
All of the 13 of participants were chief executive officers, executive directors or senior staff, levels selected because fostering innovation requires leadership to set the tone.   

Gines told them: "How you lead is how people will follow. If you set an innovative tone, that's what people will expect."   

Participation in this pilot class was limited and attendees represented a mix of organizational missions, from heart health to affordable housing. 
Curriculum covers range of tools 
The Innovation Summit introduced leaders to a range of tools to spur innovation. Tools included design thinking and Adobe Kickbox, which can help leaders create powerful programs that create change in communities. In addition, the class taught how to manage innovation so that it is embedded within an organization's daily activities. 

Participants worked in groups of four or five and used the tools in a series of exercises. Several participants said they plan to teach what they learned to their boards and staff members.
Leaders gained new ideas to use in the community
Early in the training, Pacubas asked participants to raise their hands if they considered themselves action-oriented. Almost everyone's hand went up. She asked them to remember that slowing down to solve a problem can save time in the long run. 

The training "tried to drive home the point that as leaders, we naturally want to jump to solutions, but if you slow down the thought process and really identify the root problem and several options you might try, you have a better chance for success than going for the first thing that comes across your desk."

Turner Pettway heard the message. Pettway is president and CEO of Neighborhood Housing Services of Kansas City Inc. Pettway said he has brought elements from the training to his staff meetings because he believes it will help them reach their outcomes faster. 

"First of all, is this the real problem, and if it is, what are we going to do to solve the problem?" he said. "I think the process slows it down enough where we can still control the steering and guide ourselves down the path."

For Lana McKinney, community impact director for the American Heart Association, innovation "means discovering new ideas and going beyond what the understanding of the original American Heart Association is to what we do now." 

The agency has gone from focusing on heart disease to looking at the factors that affect heart disease, such as transportation and housing, among other social determinants of health.

The Innovation Summit was especially useful to her because the agency is launching a strategic planning project. 
"We are in a space of, let's redefine our efforts in 2020. How do we do that so that we achieve our goals at the end of the year, and how can we build in innovative ways to make a significant community impact?" she said.
McKinney said she has shared the Innovation Summit tools with her leadership and several have been adopted. The result has transformed staff meetings from just reporting out to generating new ideas. "People were more present, and more open-minded about what we were looking to accomplish," she said of a recent staff meeting.
"I learned to stay focused on the user," said Don Greenwell, president of The Builder's Association and a member of the Kansas City Fed Community Development Advisory Council. 

"Oftentimes we forget that. We forget the person or the segment of the community, that they should be part of the solution itself. Initiatives in affordable housing, for example, should include people who need affordable housing. It works better than having the people who create rules and requirements doing that in a vacuum." Greenwell said he would apply that knowledge to local efforts to increase affordable housing.

"One thing I took away from it was being open to other people's ideas about different approaches to the same problem," Kathryn Persley said. "It's putting aside where you came from for a minute and saying, where are you coming from, getting that different viewpoint."

Persley is president of the Heart of the City Neighborhood Association Inc. Her family has lived in the heart-shaped neighborhood east of the Kansas City VA Medical Center since 1959. 

Members of Persley's small group focused on building more cohesive neighborhoods. "We had some strong-minded people in our group, but we had different ideas about how to handle the same problem." The group created a project to encourage people to immerse themselves in other neighborhoods, which Persley said she plans to pursue. 

"I have a shoebox full of Post-it Notes, and it reminded me to use them, to write things down. Not everything is a good idea, but there are endless possibilities," Persley said. She said she would teach some of the techniques to her board members. "I hope we can spread that among other people so we can encourage them to think creatively." 

Taking the show on the road
Greenwell said the class was a win for the Kansas City Fed, as it connected the agency and the community. "I think it would be great to do this in other locations, in the Tenth District or other areas," he said.

Pacubas is eager to take the show on the road. "This is all a big adventure to me, and I'm always up for a road trip. It was a lot of fun to be in on the front end of something like this, and know it will live past us because we got the response we were hoping for."

Gines views the training as a way to spur transformation in the community. 

"We need more innovation," Gines said. "We need more programmatic and philanthropic innovation. We're not seeing significant changes in the problems we've been facing. We're still talking about high poverty levels, and the same people who were poor in 1950 are the same people who are poor in 2019."