In a way, Nebraska State AFL-CIO President and Secretary-Treasurer Susan L. Martin has come full circle with regard to the Omaha Branch of the Kansas City Fed.
Martin, the first woman elected to lead the labor organization in Nebraska, joined the Branch's Board of Directors this year. Early in her career she was a Branch employee, with duties ranging from supporting officers to assignments in purchasing and accounting.
"I loved my time there," Martin said, adding that one memorable experience was being part of a "currency verification and destruction team" during an era when unfit notes were burned onsite.
Martin went on to a career in the Nebraska Department of Education, retiring before being elected in 2015 to head the State AFL-CIO. She was re-elected in 2017 and 2021. The organization represents 23,000 members and advocates for policies that improve the lives of working people.
"We represent labor organizations throughout the state in education, organizing and legislative work," Martin said. "Our work is really anchored in making sure that everyone who works for a living has a family-supporting wage and benefits."
Martin said that her role as an advocate for workers is part of why she embraced the opportunity to serve as a Reserve Bank director.
"I believe that the worker's voice is often overlooked in today's economy, so I want to bring the worker's perspective to conversations about economic conditions and how workers and their families are being affected," Martin said.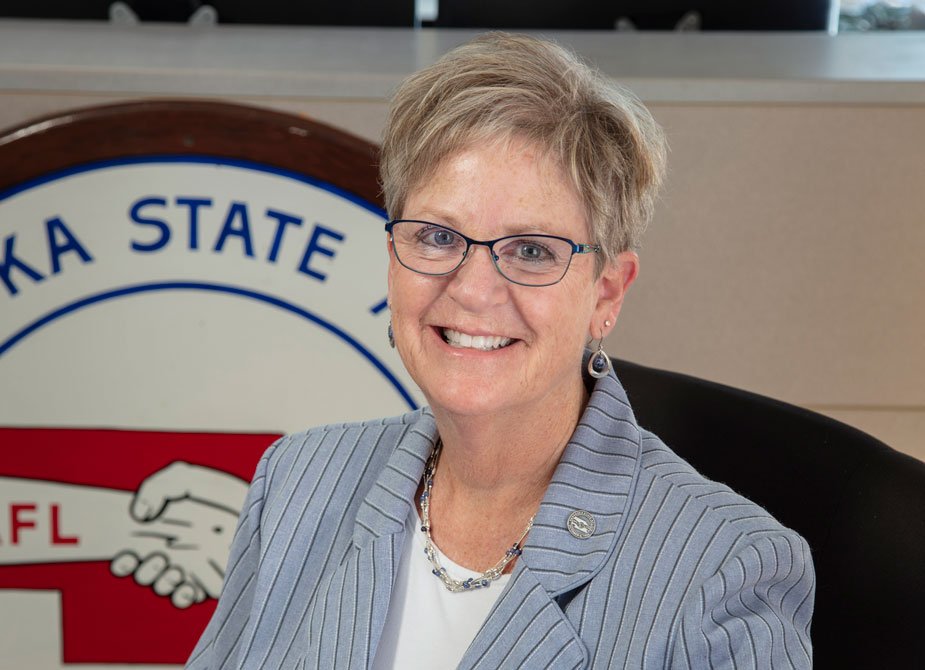 Another appealing aspect of Board of Directors service is the opportunity to analyze data for the greater good. In her Department of Education career, Martin was an applications developer working with K-12 schools on data collection and evaluation.
"I love data, and I love researching data to really understand what it means," she said. "And the Federal Reserve Bank opens up a whole new side of economics to me, and that's really helpful—being able to understand all sides of the equation in decision-making."
Martin lives in Lincoln and serves on numerous civic boards and committees. These include the AFL-CIO State Federation/Central Labor Council Advisory Committee, Nebraska Workforce Development, United Support Memorial for Workplace Fatalities and the Lincoln/Lancaster County United Way.
Martin said that she is encouraged by recent investments in infrastructure and job creation in Nebraska, and that view represents another facet of the insight she wants to bring to the Omaha Branch Board.
"I hope that I am able to contribute that human factor into the conversation, and that's the most important thing to me, because it all ties back to the economy and everything for our workers."
Learn more about Ms. Martin here.