By ANGELICA GARCIA
Over the years, the seven states in the Federal Reserve Bank of Kansas City's region have experienced the commonality of natural disasters. Tornadoes, fires and flooding led to a growing need for partnerships with local organizations to help disaster-stricken communities.
For the Kansas City Fed, the need to work with community organizations to develop emergency preparedness plans was made even more clear after observing the aftermath of natural disasters that hit the Tenth District in 2013.
"We looked at 'What's the role of the Fed in our financial
system,'" said Ariel Cisneros, Senior Community Development Advisor at the Bank. "We thought 'This is an opportunity for us to look at the space that we are in, in the financial system, and what products we can develop to help consumers and small businesses in that space.'"
That was the beginning of P3.
"I refer to P3—Plan, Prepare, Prevail—as disaster financial preparedness," Cisneros said.
After the 2013 disasters, the Kansas City Fed created the program to serve as a suite of resources to help households and small businesses with disaster preparedness and risk mitigation—issues that impact people everywhere.
The Bank held focus groups with business owners, community leaders and people who suffered from natural disasters. Input from the focus groups led to development of digital forms and checklists—all available on the Bank's website and presented in English and Spanish—that individuals and small businesses can use to document their finances to ensure that they're prepared. Additional resources include contact information for the insurance industry and banks in case people have problems or complaints.
"Ultimately, it's about how can you make a community and households and small businesses more resilient," Cisneros said.
The role of Investment Connection
Cisneros also leads Investment Connection, a program that connects community and economic development organizations with funders and banks. Through the program, organizations can submit proposals and present them to potential funders. Since Investment Connection's inception in 2011 as a Tenth District program, the model has expanded to eight Reserve Banks.
In the Tenth District, the program has helped organizations secure more than $68 million in funding. It also has highlighted the work of organizations that provide services to low- and moderate-income populations. In addition to disaster preparedness and workforce development assistance, these organizations' services include a variety of programs addressing energy efficiency, sustainability and even conservation and wildfire prevention.
Among the Investment Connection participants providing these services are Bridging the Gap, Energy Resource Solutions, Rocky Mountain Youth Corps and TBL Fund/ICAST.
Bridging the Gap, Kansas City
For more than 30 years, Bridging the Gap has been working to help make buildings more energy- and water-efficient to lower utility bills. It focuses on addressing the affordable housing crisis by assisting underserved neighborhoods. This work includes renovating low- to moderate-income apartment buildings, making them more sustainable.
"We are trying to divert as many of our resources to those areas that have a lower quality-of-life number," said Kristin Riott, executive director of Bridging the Gap. "Generally, they're historically redlined and households of color. We're really trying to put as much of our attention and resources in those areas as we can."
Bridging the Gap also installs water and energy-efficient devices, replaces toilets to lower water usage, repairs leaks, and replaces doors.
Additionally, the organization also donates trees to help cool the city and reduce air conditioning bills. The organization plans to give away 2,000 trees over the next few years.
"It can actually be the difference between life and death in a hot spell in Kansas City," Riott said.
Energy Resource Solutions, Denver
Energy Resource Solutions works to make homes energy efficient. The organization does this by insulating the homes of low- to moderate-income households with the goal of cutting energy waste.
"Low-income families tend to live in the oldest and least-efficient housing," said Howard Brooks, CEO of Energy Resource Solutions. "People that are low income have the least ability to pay a high-energy bill, and yet they have high energy bills."
Brooks said his organization was formed in response to low-income households not being able to pay their utility bills. The organization's services are free for those households.
Brooks said the most rewarding part for him is to hear how his organization has changed lives.
"When we are done working on their houses and they say 'I can already feel the difference…I'm cooler in the summer, I'm warmer in the winter, my bills have gone down, we're saving money,'" he said. "I can afford to buy medications for my wife, or I can afford a present for my grandchild, all the stories we hear from the people that we serve."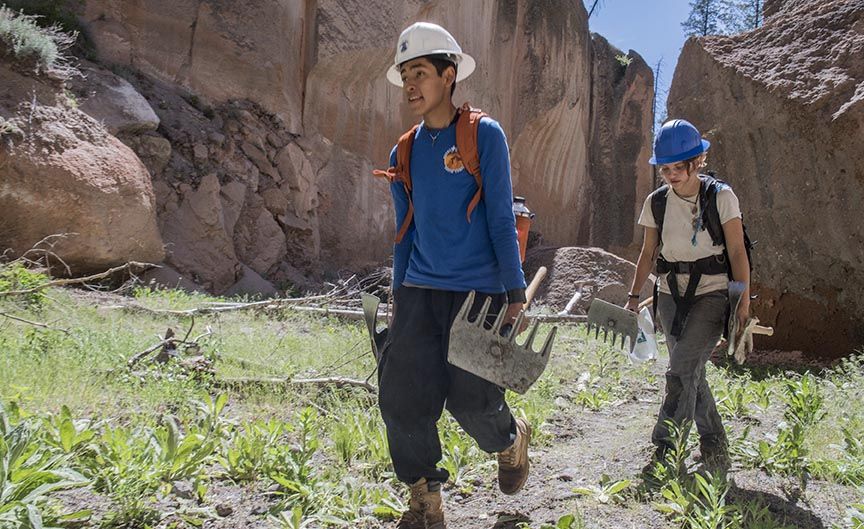 Rocky Mountain Youth Corps, Albuquerque
Rocky Mountain Youth Corps works with individuals aged 14 to 25. The organization has three programs designed to meet the needs of northern and central New Mexico's population: Canine leadership, prevention and conservation.
Corps members can learn to train service dogs to support individuals living with a disability. The prevention program allows college students to work with high school counselors to provide peer mentorship. The conservation program works with 17- to 25-year-olds and focuses on climate action, environmental work and conservation.
"We do a lot of forestry work to prevent high-intensity wildfires in our communities," said Ben Thomas, the organization's executive director.
The crews learn how to use chainsaws and are deployed to high-risk areas. They work to prevent wildfires, but they also deploy their crews to respond to natural disasters around the country.
"Our crews are on call to respond to that need in the community," he added. "Often times we go into communities that have been devastated and support the process to clean up."
TBL Fund/ICAST, Denver
The TBL (Triple Bottom Line) Fund provides financing packages for clean-energy projects in the multi-family affordable housing space and in Indigenous communities.
These services can include the removal of propane and installation of heat pumps or heating and cooling systems. The goal is to help communities move toward energy independence.
"Then you can put in solar for local (energy) generation, and some storage to give some resiliency in case there's a power outage," said Ravi Malhotra, TBL Fund's founder and president.
Malhotra leads another organization called ICAST (International Center for Appropriate and Sustainable Technology). That organization specializes in design, planning and construction and focuses on disadvantaged communities and the preservation of affordable housing.
He said data shows that low-income households pay three to four times the national average for energy consumption. For him, that was eye-opening. He said that his organization dropped all other projects to focus on combating this issue.
"When we started in 2010-2011, I think we did 800 apartments that first year, so we've grown from that 800 to 60,000," Malhotra said.
Cisneros, at the Kansas City Fed, said that these organizations are making an impact on the communities they serve while providing resources that can keep households prepared.
"It can happen to anyone regardless of income, regardless of where you're located, urban, rural, suburban," said Cisneros. "It's important to be prepared."
Learn more about readiness tools and resources available for households and businesses.