When Christi Leupold heads to work, she might be contributing to a significant and long-term rise in single-family home construction.
Like countless others during the pandemic, Leupold and her husband, Aaron, each changed jobs and workplaces. She relocated her office to their Omaha home, where she works in marketing, communications and graphic design. Aaron, with a job in information technology in the agriculture sector, now works from home for part of each week.
This shift to more people working from home will have a powerful economic effect, according to research by Jordan Rappaport, senior economist at the Federal Reserve Bank of Kansas City.
In a September 2022 Economic Review article, Rappaport asserts that reduced commute times for work will equate to more people willing to live farther from metropolitan areas' centers. That, in turn, will open large swaths of lightly settled land at the peripheries of metropolitan areas for development and lift a long-standing constraint on single-family construction, Rappaport said.
"Although home construction is contracting after recent increases in mortgage interest rates, my results suggest that in the long run, the time savings from fewer commutes could almost double single-family home construction in these metropolitan areas from its level just prior to the pandemic, an aggregate increase of 427,000 units per year," Rappaport states in the research paper.
Although Rappaport notes that it will take years to see those new-build numbers, the pull of hybrid or remote work is evident right now in homes across the country.
"Before COVID I would have told you I would never work from home," Christi Leupold said. "I love not having to drive. When it's 5 o'clock, I am home and not driving home. The freedom and flexibility of being home has been amazing.
"While COVID was scary and crazy and weird, it shook some things up just the right way. We see things different than we ever have before. I think we have all adjusted to working from home."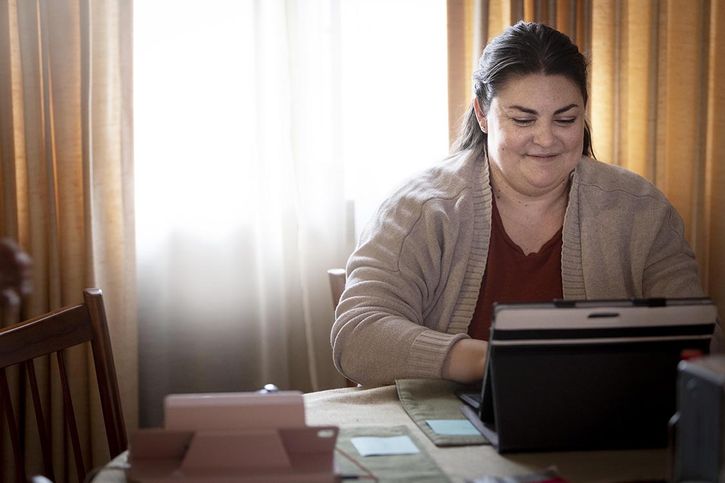 The impact of commuting times
Rappaport's research concludes that the country's biggest metropolitan areas, which create the longest commutes, are expected to experience the largest increases in home construction from the work-from-home trend. The upturn has been long in coming.
Single-family construction remained weak throughout the 2010s despite strong demand for homes and growth in other measures of economic activity such as real gross domestic product and real disposable income, Rappaport said.
While higher interest rates had a significant effect on home building in recent years, Rappaport concludes that there is a correlation between depressed single-family housing construction and long commuting times from the outer suburbs to the central business districts of large metropolitan areas.
Rappaport said commuting delays due to traffic congestion have been steadily increasing since the 1980s, especially in the largest metropolitan areas. His research showed that for metropolitan areas with population of more than 3 million, the extra time attributable to congestion more than doubled, from 37 hours per year in 1982 to 84 hours per year in 2019.
"The thing that strikes me the most is the crazy amount of time people spend commuting in certain metro areas," Rappaport said. "It's staggering to me."
If a person can work from home for as little as two days a week that could equate to significant savings. Rappaport said that for metropolitan areas with a population of at least 1 million in 2020, the time employees save commuting from outer suburbs to central business districts by working remotely two days a week ranges from 130 to 406 hours per year.
The largest metropolitan areas, where commutes have been longest, are likely to see an especially strong boost in home construction. For example, construction is expected to more than triple in the New York, Los Angeles, Chicago, Philadelphia, and Boston metropolitan areas, according to Rappaport's research.
Working totally or partly from home isn't going to be for everyone. Rappaport said that hybrid working loosens the tether between where someone lives and works but does not break it.
"There is no doubt there will be a lot of variation across occupations because obviously some occupations cannot hybrid," he said.
And, Rappaport said, there will be employers who will expect employees in the office, although, for now, that has been difficult for many companies to enforce because of a tight labor market.
"There will be a lot of experimentation but ultimately companies are going to be competing for workers," he said.
It's not unrealistic to think that offering hybrid working will become a part of an employee's job offer along with salary and benefits.
"What companies are going to do is try to make it more attractive," Rappaport said.
"I think the evidence—and I can point to other people's research—is that hybrid working is here to stay," Rappaport said. "It is just a question of what is its distribution, which is going to take some time to figure out. I don't think it's a question of whether hybrid working is going to stick around."
And the numbers don't have to be large to have an effect.
"You don't need a huge share of your population moving out farther away to have a lot of housing construction," Rappaport said.
It's important to understand that this will take time to unfold, and there will be interruptions.
"An important part of this is it's going to take place over decades," Rappaport said.
"This is not about the next year or two. In fact, we know we are in a housing slump right now because of the increase in interest rates. If you were to look at my prediction right now you might think it's ridiculous, but I carefully titled it coming in the long term."
Long term—as in 20, 30 or 40 years.
Rappaport said the closest comparison to what this housing construction surge will look like would be when the automobile became commonplace in the 1920s.
The availability of an automobile prompted housing growth further and further from a city's center. That surge in housing developments continued with the increases in infrastructure and highway construction following World War II.
"You set off a transition that lasted decades," he said.
Today, the outer suburbs have advantages. For the home buyer, there is affordability, and for the builder, there are economies of scale with the vastness of the land. All of which will take time to develop.
"As you expand out, there are all these sorts of things that have to happen together," Rappaport said. "…You can only go so fast in this transformation. The numbers, I do think, are realistic."
Ripples of a future boom
While the housing construction gusto might be seen most clearly in the country's biggest metropolitan areas, large metro areas in the Tenth District also will experience it.
In fact, those who make a living building and selling homes in outer suburbs are beginning to see indicators of that the trend.
In the Kansas City area, for example, dedicated office space is now a basic and expected component of new-home plans, said Jeff Julian, vice president of Don Julian Builders.
"I would absolutely agree with the theory," Julian said. "We have seen a huge shift in the last two years. Every house has to have some kind of office. I don't have any plans without a home office in it."
And there's a related trend tied to the rise in at-home work for two-adult households.
"Actually, the biggest shift now is two home offices, and they don't necessarily have to be on the main floor," Julian said. "Quite a few of our buyers work from home all the time. They say, 'I don't mind being a bit further out' because they don't need to drive to the office every day.
Andy Alloway, president of Nebraska Realty in Omaha, said he only has to look around at empty office space and parking lots in his own business neighborhood to see the trend of more employees working from home.
"Construction will happen in the suburbs," Alloway said. "Bedroom communities are really happening. The land and affordability are there. People are saying I need more room. I need to work from home. Even before the pandemic the idea of working elsewhere was appealing, but the employers weren't as into it."
It's not only people wanting to have home offices, but they are seeking other benefits of the suburbs, said Nicole Rueth, senior vice president at the Rueth Team, a Denver mortgage company.
"Homes inside the metro areas, especially Denver, are creating an affordability issue," Rueth said. "First-time homebuyers can find bigger homes which accommodate working from home, growing families, and a little more space when they are willing and able to move further out of the city center. What is helping this is new-build communities recognizing this trend."
A clear example, Rueth said, is what is happening in Strasburg, an unincorporated area about 40 miles east of downtown Denver.
Emily Burch, a Realtor who lives in Strasburg, agreed that affordability is a strong pull to the area right now. She said that many current home buyers in the area work for companies tied to nearby Denver International Airport.
Burch said there is no doubt that there will be a lot of new home construction in the area because of people's ability to work at least a few days a week from home and its location along Interstate 70—a direct route to Denver.
"People will say, 'I don't have to go into the office but I can totally do it if I have to,' " Burch said.
She looks no further than new development in nearby Bennett, a few miles west of Strasburg and closer to Denver, where almost all new home models have office space.
"We all know what is coming."