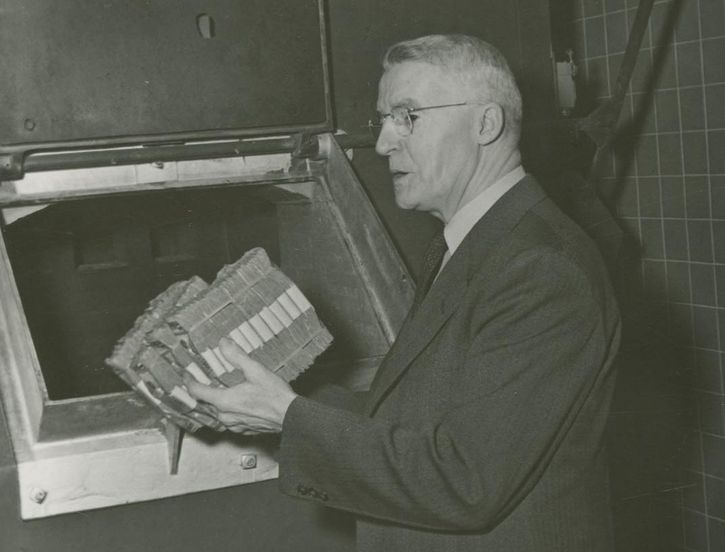 By STAN AUSTIN and CYNTHIA EDWARDS
Disposing of "unfit" currency is a process that Federal Reserve Banks have carried out for generations. However, the methods have evolved.
As part of their core work, the Kansas City Fed and other Reserve Banks routinely process shipments of coin and currency, such as funds going to and from the member banks in the region. That currency undergoes a sorting, inspection and verification process, in part to determine whether the currency is suitable to return to circulation. Bills that are ripped, soiled, defaced or ragged from heavy use, can be deemed unfit. Ultimately they are replaced by newly printed currency, but first those unfit bills are removed from circulation and designated to be destroyed.
In the Fed's early years, the destruction process was carried out by hand, which at various times included canceling bills by punching holes, cutting them in half lengthwise and sending one half to the U.S. Treasury Department.
Over the years, burning unfit bills became the standard disposal method. The Kansas City Fed began burning currency in 1953. As former Kansas City Fed vice president Barry K. Robinson wrote in a 1976 Kansas City Star article, the life cycle of unfit currency "culminates with the worn bills' consignment to the roaring 1,200-degree flames of the bank's currency incinerator." This method of disposal continued at the Kansas City Fed until 1981.
Today unfit bills are destroyed by shredding, and the pieces sometimes are bagged as souvenirs for visitors.