Each week, dozens of neighborhood children stream into the Connecting for Good Community Computer Training and Donation Center in Kansas City, Kan., after school. They're among about 5,000 users per year who come through the center for free access to broadband-connected computers and exposure to training such as a science, technology, engineering and math (STEM) program.
Many of the students live across the street in Juniper Gardens, a low- and moderate-income housing project. For several of them, the center fills a void by allowing them to develop skills they can't practice at home because their households lack computer equipment or internet access.
"My door says I close at 6 p.m., but the lab might still be open at 8," because of demand, said Jackie Mittag, who coordinates access to the computers in her role as office management specialist. She calls the children "my babies" and says that many of them come straight from school and stay for hours.
Isaac Washington, 78, lives nearby and also is a frequent visitor at the tech center. The U.S. Army veteran and minister doesn't own a computer or have internet access at his home. However he signed up for training, realizing that he needed the fundamentals of internet usage to perform such basic tasks as keeping track of his military and medical benefits.
"With all this modern technology, I knew I eventually would have to learn computers to take care of my business," Washington said.
Across the country, public libraries, academic institutions and community organizations like Connecting for Good are facing the same sweeping dilemma: How to bridge the so-called "Digital Divide"—the employment, education and opportunity gap between those with easy access to broadband services and those with little or no such access. This disparity is highlighted in studies showing that broadband access increasingly is required to find and sustain employment, receive education, access basic financial services and pursue such opportunities as operating small businesses.
According to the 2016 Federal Communications Commission (FCC) Broadband Progress Report, 34 million Americans lack access to fixed broadband, defined as download speeds of 25 megabits per second (Mbps) and upload speeds of three Mbps. The Pew Research Center reports that 53 percent of adults with annual incomes lower than
$30,000 have broadband at home, compared with 93 percent of those with incomes above $75,000.
The disparity isn't limited to urban areas. The FCC report said that 39 percent of rural Americans—about 23 million people—lack internet access.
To help raise awareness of these issues and improve overall access to affordable broadband, the Community Development arm of the Federal Reserve Bank of Kansas City has launched the Digital Inclusion initiative.
In recent months, through roundtables with community leaders in five Tenth District cities; computer equipment donations; and partnerships with community organizations, the program has brought together a wide range of stakeholders working toward closing the digital divide. The initiative also has conducted a broad survey—in partnership with the National Digital Inclusion Alliance—to gain clarity about needs and identify potential programs and services. Kansas City Fed Senior Community Development Advisor Jeremy Hegle, who is leading the Digital Inclusion initiative, said the survey's results, stakeholders' feedback and other data will be part of a comprehensive report the Bank will release in 2019.
The Digital Inclusion initiative's basic objectives:
Gain a deeper understanding of the digital divide's causes and impact on low- to moderate-income communities and the broader economy.
Identify innovative approaches to bridging the divide.
Inform policymakers, funders and influencers and assist them in implementing solutions.
"Just like access to electricity revolutionized people's lives 100 years ago, inclusion in the digital world is fundamental to today's economy," Hegle said. "Ninety-five percent of students today report needing to use the internet to do their homework. What happens when they don't have computers or internet? They're immediately put at a disadvantage. We also know that teaching people computer basics can be a significant boost to their employability skills."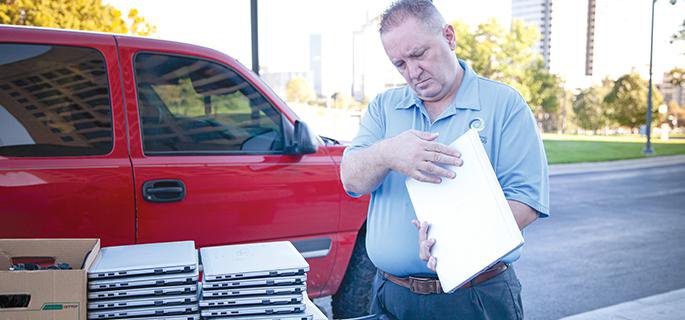 Defining the divide
Although broadband access is at the heart of the digital literacy dilemma, it is not the only factor. Hegle said that effective strategies to ensure digital inclusion require a "three-legged stool" approach defined this way:
Affordable broadband access—Access to sufficient bandwidth to conduct data-intensive tasks such as online learning and job research.
Computer access—Access to up-to-date desktop computers or laptops. Although mobile devices (smartphones in particular) are helpful, they are not always sufficient for conducting such critical tasks as applying for jobs or doing homework.
Training and technical assistance—Basic competency also is needed for online learning and education. For example, at Connecting for Good's recent State of Digital Inclusion Breakfast event in December, Chief Executive Officer Tom Esselman pointed out that nearly eight in 10 middle-skill jobs in today's workforce require such digital acumen as mastery of spreadsheet and word-processing programs.
That requirement speaks to the need for improved digital equity, which the nonprofit National Digital Inclusion Alliance (NDIA) defines as "a condition in which all individuals and communities have the information technology capacity needed for full participation in our society, democracy and economy."
The challenge is in finding low-cost ways to help bring that equity to those who need it in order to make financial or educational progress.
"Technical and digital skills are transforming jobs across all sectors," Hegle said. "The paradox with this changing economy is the large number of unfilled jobs requiring these skills and the large sector of our population in need of jobs, but which lack the relevant skills."
The broadband disparity can have impact beyond the employment and education arenas.
An NDIA report, citing the Henry J. Kaiser Family Foundation, said that some states are moving toward requiring that Medicaid beneficiaries go online to file certain work or volunteer service reports. However, in four particular states cited in the report—Arkansas, Indiana, Kentucky and New Hampshire—one in five households don't have home internet access.
"Without home internet service, individuals subject to work requirements would need to visit a public library or other community space to use a computer," the NDIA report said.
Challenges for rural populations
Rural communities often lack affordable broadband options. State and federal efforts to increase broadband availability often target the areas of greatest need. However, Tenth District participants in the Bank's Digital Inclusion roundtables said that steps to address those needs often are complicated by inaccurate or insufficient maps of broadband access.
The FCC provides broadband availability maps, but the maps have three substantial limitations:
Fixed broadband maps report availability at the U.S. Census tract level. If just one house or business within the census tract has broadband access, the entire Census tract is considered "served." This issue is compounded in rural areas where Census tracts cover wide areas. For example, Wyoming's largest Census tract covers 525 square miles.
Maps of wireless broadband coverage rely on data supplied by service providers, a practice criticized by broadband-user advocacy groups who say the maps are inaccurate. According to these maps, for example, Kansas is fully covered, and Oklahoma has just a few small areas lacking coverage.
The maps do not reflect affordability. Where broadband is available, it often is expensive. Users in smaller communities often get slower speeds than those in larger areas, but costs trend higher in the smaller communities. In one example, roundtable participants in Nebraska reported paying $90 per month for internet access at 10 Mbps, while in Kansas City $40 per month can buy speeds of 100 Mbps.
Meanwhile, the NDIA in December 2018 published several interactive maps purporting to show broadband access status for every Census tract in the United States. The maps, available on the organization's website, are based on data from the 2017 American Community Survey (ACS) Five-Year Estimates, released in early December by the U.S. Census Bureau.
"This is an incredible new resource for people in city neighborhoods, small communities, rural and tribal areas to understand and address the broadband divides in our own diverse communities," NDIA Executive Director Angela Siefer said in the organization's announcement.
Meeting community needs
One way that organizations and companies are helping improve the digital equity situation is by donating computers and related technology equipment that can still be put to good use.
For example, in 2018 Hegle worked with leaders at the Bank to donate 25 laptops that no longer met the Fed's technology standards. Under a recycling agreement, those laptops were donated to Connecting for Good, which refurbished them at its Kansas City, Kan., center, installing a fresh operating system and Microsoft Office on each.
The computers then were utilized across the state line—by another community organization, Operation Breakthrough. There, most of the computers are being used by teachers in an early childhood program for low- to moderate-income families.
Hegle said that the concept of repurposing computer equipment came up frequently in survey responses and during the Digital Inclusion roundtable discussions that the Bank conducted in Cheyenne, Wyo., Kansas City, Manhattan, Kan., Oklahoma City and Omaha. Such donations were seen as inexpensive ways for the business community to have meaningful impact.
"The digital divide issue is a complex puzzle with many pieces," Hegle said. "Through this process we've already identified how some of those pieces fit together, and which entities hold them—banks, internet service providers, the business community, educators, etc. By identifying how the pieces fit together and who holds them, we can make significant impact."
Learn more about the Kansas City Fed's Digital Inclusion initiative and other Community Development programs.