Kansas City Fed's Block inducted into Black Achievers Society of Greater Kansas City
Porcia Block, an officer with the Federal Reserve Bank of Kansas City, was recently inducted into the Black Achievers Society of Greater Kansas City for her career accomplishments, educational achievements and community impact. Founded by U.S. Rep. Emanuel Cleaver in 1974, the society honors local African American leaders in business and industry. The society has inducted more than 450 members in the past four decades.
"I am humbled by the recognition," Block said. "To the extent that my achievements are inspiring to others and I am able to serve as a role model, I am grateful and feel very blessed."
Block was honored at the 2017 Black Achievers Society dinner in January after being nominated for the award by the Kansas City Fed's senior leadership team in December.
"I am glad to be a part of an organization that has, at its forefront, a mission of supporting young people and providing opportunities for them to further their education," Block said. "Education has represented a real pathway to success for me, so I am glad to be a part of a group that awards scholarships to deserving young people."
Block joined the Kansas City Fed in 1998 as an assistant examiner trainee after graduating with a degree in finance from Creighton University. In 2004, she left the Fed and worked in various auditing and banking positions, while attending graduate school to earn her MBA from Benedictine College in Atchison, Kan. In 2010, she returned to the Kansas City Fed and served in several management positions. She was promoted to assistant vice president in 2016. Last year, she graduated from the Graduate School of Banking in Boulder, Colo.
Click External Linkhere to learn more about the Black Achievers Society of Kansas City.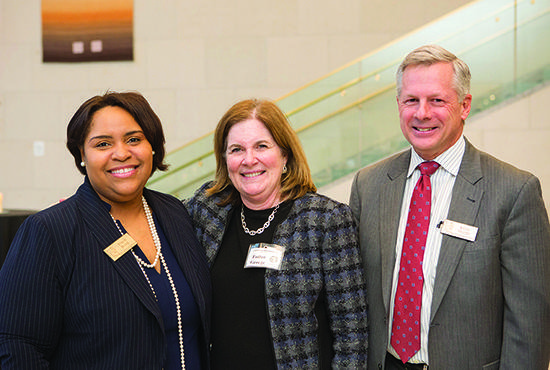 Kansas City Fed names 2016 Diversity Change Agent Award recipients
The Federal Reserve Bank of Kansas City recently named employees Bridget Gasper and Maurice Roper as recipients of the Diversity Change Agent Award, an honor for employees who make extraordinary contributions to diversity and teamwork for the Kansas City Fed. 
Gasper received the award for her continued involvement on a council of employees who support diversity activities in the Bank. She has been engaged and assisted with multiple diversity-related events.
Roper was honored for his commitment in leading the Kansas City Fed's 2016 Diversity and Inclusion Appreciation Week.  Roper spent countless hours coordinating subcommittees and logistics for the event. He is a member of the Bank's Office of Minority and Women Inclusion diversity recruiting team and regularly assists with events for Inroads, a nonprofit that supports minority inclusion in corporate organizations.   
Both Gasper and Roper have worked diligently to further the understanding of the Kansas City Fed's diversity strategy and consistently serve to remind others how exhibiting inclusive behaviors leads to better business outcomes.
Visit External Linkhere to learn more about the Kansas City Fed's  diversity and inclusion practices.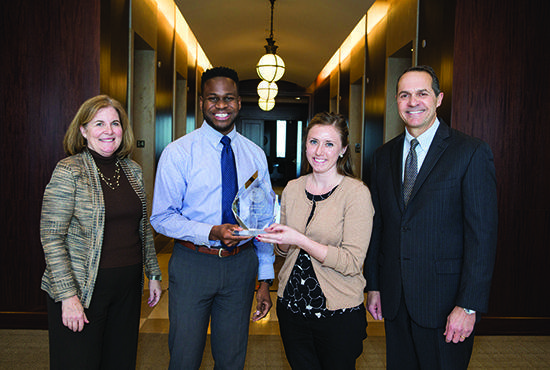 Employees volunteer with Habitat for Humanity
A group of Federal Reserve Bank of Kansas City employees partnered with Habitat for Humanity last November to rebuild a house in Independence, Mo. They installed drywall, scraped paint, caulked windows and cleared debris, among other tasks, in an effort to give back to the community.
"It gave us a chance to let our guard down," Kansas City Fed employee Deena Schneider said. "We were just trying to do something good
for others."
The Kansas City Fed supports community involvement through its Community Involvement Program, which actively seeks and provides opportunities for all current and past employees and their families to volunteer in a variety of civic, educational and community service activities.