Evaluating the work of 56 college students can be challenging—especially when the work they've all done is exceptional.
That's what the judges of the 2017 KC Fed Code-A-Thon faced when assessing the software solutions of 13 teams from eight universities in the Tenth District.
"It was extremely challenging for our judges to narrow it down to three teams," said Margery Sendze, who is the technology manager of the Kansas City Fed's TechEdge program and oversees the Code-A-Thon.
The goal of the Code-A-Thon is to encourage and inspire computer science and engineering students to participate in developing application solutions by challenging participants to choose a real-life problem, reimagine it and create a meaningful solution.
This year's Code-A-Thon began Oct. 13 with Brian Faros, vice president and CIO, Application Delivery Services revealing this year's challenge, "From Campus to Corporate," to the participating teams via YouTube Live. Once the challenge was revealed, the students had 48 hours to create a software solution that would help college graduates transition into today's workforce.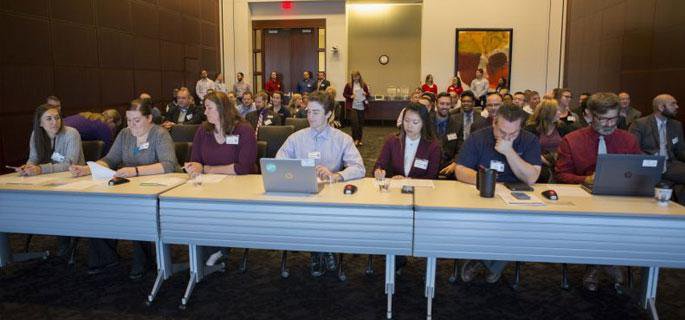 Adam Bairos, a member of one the competing teams, said the entire project, not just one single aspect, was challenging for him and his teammates. "The goal was to keep it simple and not stop working," he said.
At the end of the 48 hours, Bairos' team was one of two from the University of Central Missouri chosen as a top three finalist; a team from Kansas State University rounded out the top three.
The teams then had about a week to prepare a presentation about their software solutions, which they gave Oct. 26 at the Kansas City Fed's headquarters in Kansas City, Mo., in front of a panel of judges and a room full of spectators, including Code-A-Thon committee members, representatives from each school and Kansas City Fed employees.
"The most important quality to any group's success is their ability to come together to form a cohesive, collaborative and diverse team," Faros said. "All of our student participants proved, through their commitment to teamwork, impressive outcomes can be achieved in a short period of time when everyone is laser focused on the same outcome, each works to complete their personal tasks, and communication is open and often."
The University of Central Missouri "Mules 1" team won the challenge for its Social Media Sanitizer program that cleans up a college graduate's social media profile. The team members—Allen Anthes, March Funston, Kyle Gorgas, Samantha Stanley and Demietrius Huff—developed the program based on a statistic Funston read about how employers eliminated 44 percent of job candidates by evaluating jobseekers' social media content.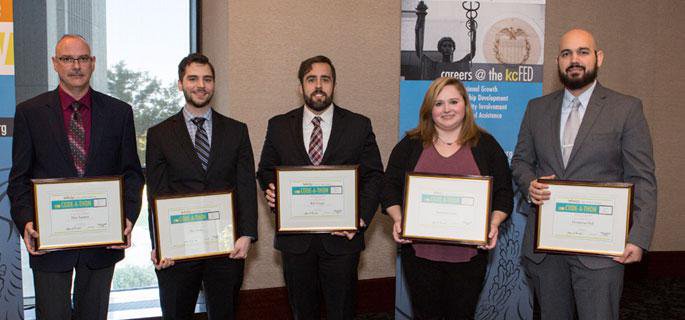 The runner-up team, Mules 2, consisting of Bairos, Ryan Evans, Justin Durham, Tyler Hein and Michael Minzey, created an application called Grapevine that helps graduates, who are either seeking a job or who have recently accepted a job, find mentors within their field.
The Kansas State team, Wildcats 2, comprised of Alex Todd, Kyle Eisenbarger, Tyler Aden and Tristan Mansfield, took third with its program that provides employers a web-based central platform to communicate company events and other information to employees, similar to a corporate intranet platform.
"I really enjoyed participating in it," Tyler Aden said. He added that the challenge gave him a great opportunity to work with students he had not worked with before on a collaborative project and to learn about different applications and processes.
For its team support, and for its participation in the overall event, the University of Central Missouri was awarded the 2017 University Code-A-Thon Champion. Last year's winner was the University of Kansas.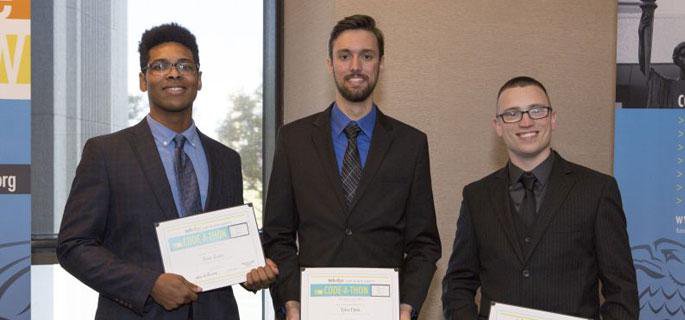 Two students who participated in last year's Code-A-Thon now work at the Kansas City Fed."The Code-A-Thon helped me develop professional skills such as teamwork, communication, project organization and software development languages and processes," said Eli Gaitley, who was an intern in Application Delivery Services. "It's a great break from school and allowed me to unleash my creativity in one weekend."
Omar Alzubbi, currently in the TechEdge program, said: "The KC Fed Code-A-Thon is a great opportunity to take on a unique and rewarding challenge It allowed each of us to identify our individual strengths while finding a good balance for collaborative work."
Sendze says the Kansas City Fed has made a concerted effort to invest in growing and developing a technology savvy workforce.
"It is a commitment we take seriously," she said. "The Kansas City Fed Code-A-Thon is an extension of this commitment. It allows us to inspire and encourage students to come together, co-create, learn and grow."