One of the feature exhibits at the Money Museum is the Truman Coin Collection on loan from the Harry S. Truman Presidential Library and Museum. This collection consists of 450 coins and was originally the personal collection of John Snyder, the Secretary of the Treasury during the Truman administration. This collection was completed and given to the Truman Presidential Library in Independence, Missouri for public display in March of 1962.
In November of 1962, the coin collection was stolen from its display at the Library and Museum. The original collection was never recovered, however, Snyder and John Stacks, a rare coin dealer in New York, reassembled a comparable collection from the donations of 167 coin collectors. This collection was presented to President Truman on May 6, 1967 by Stacks and Snyder and was placed on display once more.
Truman at the Kansas City Fed
The entire Truman Coin Collection is now on display at the Money Museum. Historic coins makes the collection a natural fit for the Money Museum as well as the historic connection between Truman and the Federal Reserve Bank of Kansas City. After Truman's second presidential term, he leased office space on the 11th floor of the original Federal Reserve building at 925 Grand Avenue. Truman used office 1107 from the end of his presidency in 1953 until the Truman Library was completed in 1957. This was the office from which Truman wrote both volumes of his memoirs, Years of Decision (1955) and Years of Trial and Hope (1956).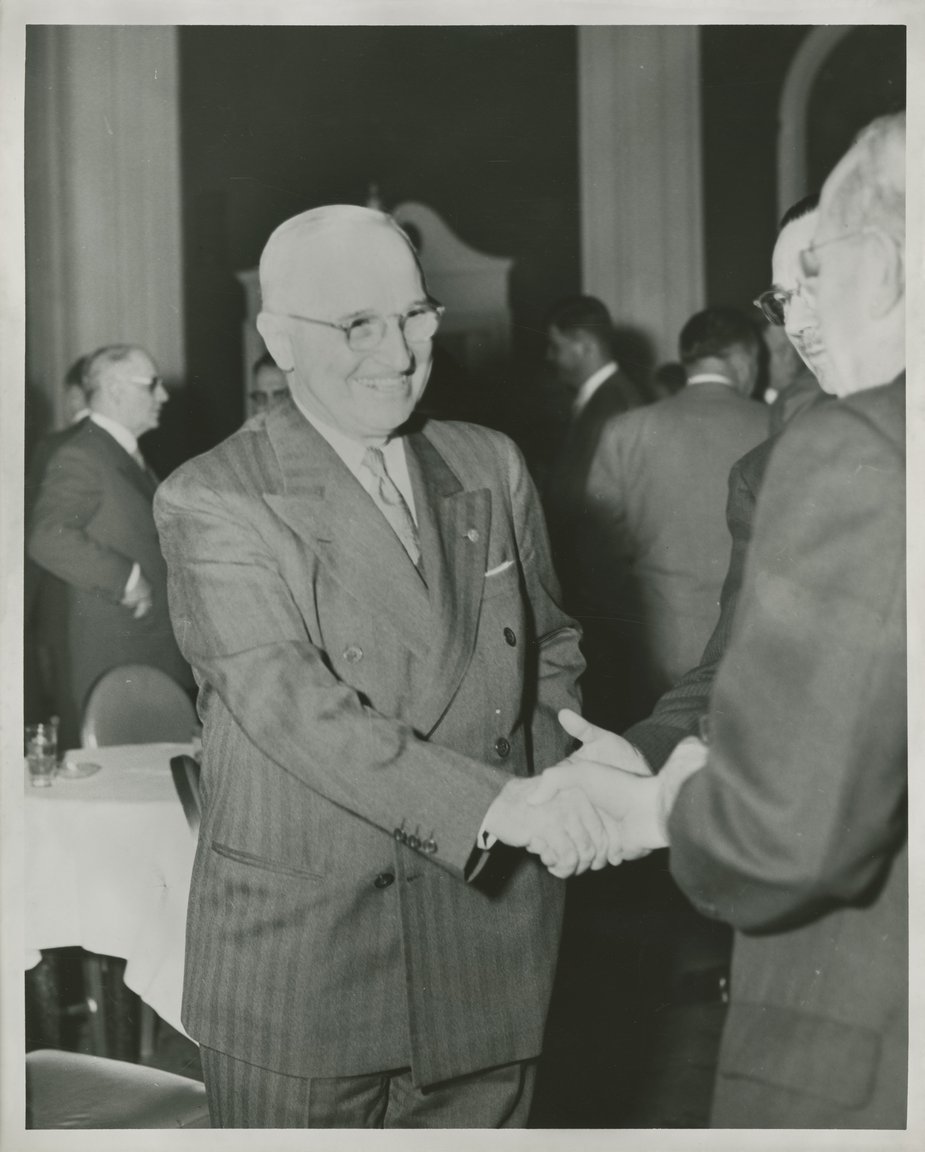 In an article written after Truman's passing, Sam Pauly, a former manager for the 925 Grand Avenue building, recounted his memories of Truman at the Fed. "We learned Mr. Truman would be moving into the Fed in December 1952. The first morning he came to the Bank there was a lot of activity in the lobby, with persons lining the walls to get a glimpse of him. And for some time after he occupied his office here, persons would gather at the entrance around lunchtime in hopes of seeing him. Mr. Truman was always very pleasant, and would smile and wave at everyone he saw."
The Rarest Coin in the Collection
The rarest coin in the collection is the 1907 double eagle. President Theodore Roosevelt commissioned Augusts Saint-Gaudens to redesign the $20 coin, but when Saint-Gaudens' health declined, his assistant, Henry Herring, completed the project. The model, Hettie Anderson, a African American woman, was posed as the image of "Liberty." While beautiful, the redesign of the coin was not practical for bankers as the high relief image made the coins difficult to stack and count. The following year, the coin was redesigned to be minted with a lower relief image which was better for stacking.