Access to affordable, reliable internet has become essential to many daily household activities—paying bills, communicating with medical professionals and loved ones, online learning, work, and recreation. While there are multiple reasons why many U.S. households lack an internet subscription, cost is often a key reason for lower income households. The Affordable Connectivity Program (ACP) was created to make internet subscriptions more affordable, and new efforts are under way to ensure those who qualify for the ACP get signed up.
About the ACP
Despite widely held views that internet has become essential infrastructure, before 2020 little government assistance was available to help lower-income households afford it. That changed during the pandemic when the Federal Communications Commission (FCC) launched the Emergency Broadband Benefit (EBB). The EBB program provided a $30-per-month subsidy to households making below 200% of the Federal poverty level. (On Tribal lands, the subsidy was up to $75 per month.)
The ACP was launched on December 31, 2021, effectively replacing the EBB. The ACP provides the same subsidy as the EBB, and also provides qualifying households up to $100 to purchase a computer or tablet from participating providers. More information on the ACP is available External Linkhere.
Where people are, and are not, benefitting from the ACP
After more than a year since the launch of the ACP, only about a third of qualifying households nationally have enrolled in the program. According to an External LinkACP enrollment dashboard available from the Institute for Local Self-Reliance, enrollment rates across the Federal Reserve Bank of Kansas City's district mostly trail the national rate:
National: 31.8%
Colorado: 22.6%
Kansas: 21%
Missouri: 28.5%
Nebraska: 24.4%
New Mexico: 36.7%
Oklahoma: 35.7%
Wyoming: 18.6%
According to a External Linkreport by the Education Super Highway, there are three key reasons enrollment rates are so low:
Lack of awareness: In many communities, 75% of eligible households are unaware of the ACP.
Lack of trust: People may worry about unexpected costs, be skeptical about free services, or be concerned about sharing personal information.
Barriers to enrollment: Lack of internet access and language barriers make it difficult to access the ACP's online sign-up portal. The application process can take 30-45 minutes, and 45% of applications are rejected. Many more fail to complete the process.
Trusted community organizations can boost enrollment rates
Community organizations can increase enrollment rates by getting the word out and assisting qualifying households enroll in the program. This role of community organizations might help explain why enrollment rates vary so greatly from one ZIP code to the next, as highlighted in the example below. In the 64130 ZIP code of Kansas City, Missouri, more than 76% of qualifying households are enrolled. In the neighboring ZIP code of 64110, enrollment is just 36%.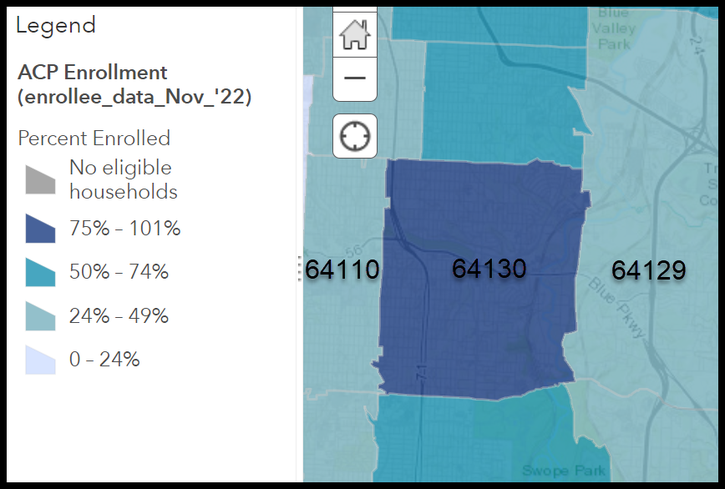 New grant program aims to boost enrollment
In March, the FCC announced grant awards to fund ACP promotion and enrollment campaigns. Grant awards across the Kansas City Fed's District include the following:
Colorado
Ethiopian Community Television, Aurora, $200,000
Denver Community Ventures, Denver, $125,000
Hunger Free Colorado, Denver, $110,000
Colorado Community Action Association, Nederland, $200,000
City of Pueblo, Pueblo, $300,000
Kansas
City of Topeka, Topeka, $90,200
KC Digital Drive, Inc., Kansas City (Missouri/Kansas), $500,000
Wichita State University, Wichita, $409,800
Missouri
Bootheel Regional Planning Commission, Dexter, $150,000
Missouri Coalition for Primary Health Care, Jefferson City, $300,000
KC Digital Drive, Inc., Kansas City (Missouri/Kansas), $500,000
Northwest Missouri Regional Council of Governments, Maryville, $250,000
Mark Twain Regional Council of Governments, Perry, $100,000
Ripley County Public Housing Agency, Poplar Bluff, $125,000
Meramec Regional Planning Commission, St. James, $150,000
Boonslick Regional Planning Commission, Warrenton, $100,000
Nebraska
Southeast Nebraska Development District, Lincoln, $500,000
New Mexico
City of Albuquerque, Albuquerque, $400,000
New Mexico Black Leadership Council, Albuquerque, $400,000
Oklahoma
Cheyenne and Arapaho Housing Authority, $241,200
The Executive Office of the State of Oklahoma, $500,000
Wyoming
Compass Center for Families/Community Services Network of Wyoming, Sheridan, $324,777
How you can help
The Education Superhighway has created customizable ACP promotional materials and toolkits for External Linkcommunity leaders and for External Linkschool districts to launch ACP promotional campaigns. But you don't need to launch your own campaign to make a difference. If you know people who might be eligible, consider reaching out with information on External Linkwhether they qualify and External Linkhow to apply.