It sounds too good to be true—get paid to gain on-the-job experience, receive industry-specific training and earn a nationally recognized certificate. However, more than 540,000 workers in more than 1,000 occupations are gaining just that by joining a registered apprenticeship initiative.
National Apprenticeship Week, observed Nov. 12-18, is about getting out the message.
Benefits of apprenticeships
Apprenticeships are not just for the skilled trades. Businesses in diverse industries including energy, information technology, advanced manufacturing and health care use the apprenticeship model. They find it creates a flexible means to build and retain a highly skilled and motivated workforce. Studies suggest that for every dollar invested, apprenticeships give employers a return of $1.50.
Workers also receive benefits. Those who complete a registered apprenticeship receive a nationally recognized credential that often is equal to a two- or four-year college degree. The average annual starting salary after an apprenticeship is $60,000. Workers who complete an apprenticeship earn about $300,000 more in their careers than their non-apprenticed peers.
National Apprenticeship Week
National Apprenticeship Week celebrates the value of apprenticeships to workers, employers and their communities. U.S. Department of Labor (DOL) sponsors the week, which is in its fourth year.
The celebration has grown each year in size and scope. In 2017, there were nearly 1,000 events  across the country involving more than 105,000 participants. In addition, 43 governors and 71 other municipal and industry leaders signed proclamations recognizing the value of apprenticeships.
Kansas celebrates apprenticeships
In Kansas, nearly 2,000 apprentices are engaged by more than 250 employers statewide. Kansas is one of several states that received a DOL Registered Apprenticeship Accelerator Grant. The state's regional workforce development boards are using these resources to increase the number of employers that offer apprenticeships. Gov. Jeff Colyer is expected to sign a proclamation during the week.
Wichita Mayor Jeff Longwell and the city council are expected to adopt a proclamation and acknowledge the role of apprenticeships in the region at a Nov. 13 kickoff event. The Workforce Alliance of South Central Kansas, which serves the Wichita region, is a longtime supporting partner of apprenticeships. Over the years, the Workforce Alliance has leveraged resources from the Workforce Investment Act (WIOA), and now the Workforce Innovation and Opportunity Act, to fund apprentices in electrical, plumber and pipefitter programs. There are 202 WIOA participants enrolled with these partners and an additional 14 in an Industrial Machinery Mechanics Apprenticeship.
Keith Lawing, CEO of the Workforce Alliance, reports that expanding registered apprenticeships is a strategic priority for the regional workforce board. "The earn-and-learn design of a registered apprenticeship benefits both the employer and the job seeker. We are looking to expand this as a business services tool and create new apprenticeships to meet the ongoing need for a skilled workforce in this region."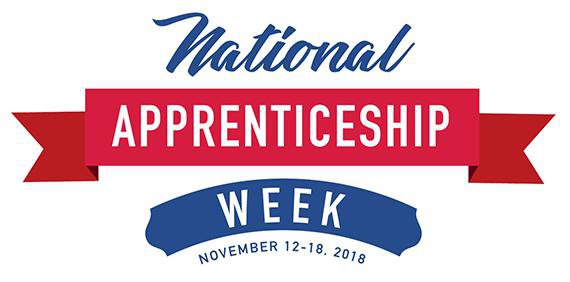 Oklahoma expands career awareness
Oklahoma is one of many states that build programs around National Apprenticeship Week. Doing so leverages local involvement and expands awareness of career opportunities. Its annual Oklahoma Career Expo Week gives students front-row exposure to critical, in-demand careers. This directly supports Oklahoma's efforts to expand apprenticeships by raising awareness.
In its second year, the Oklahoma Career Expo Week is having an effect. As a result of its participation, the University of Oklahoma K20 Center's GEAR UP for SUCCESS program will start using career exposure and exploration in its work with 46 schools serving 12,000 students. In addition, the program will develop a free career exploration curriculum that any teacher can use.
The Federal Reserve Bank of Kansas City's Oklahoma City Branch is supporting this year's Oklahoma Career Expo Week with several programs. These include workshops with high school students on employability skills, career pathways in the finance sector, and how to identify and develop career interests. These events were developed through existing relationships and free curricula and resources. With some creativity, any organization can get involved with National Apprenticeship Week or the local campaign.
Getting involved
Employers, industry associations, municipalities and educators—everyone with a stake in building a strong and skilled workforce—can get involved with the National Apprenticeship Week celebration.
The National Apprenticeship Week External Linkwebsite offers many ideas for ways to participate, such as:
Apprentice graduations
Business open houses
High school career fairs
Apprenticeship signing days
Skills competitions
Industry roundtable events
Tools for planning events like these, as well as information for promoting the week on social media, are available on the National Apprenticeship Week External Linkwebsite. Events can be listed here to promote local activities and show national support. State and local workforce development organizations can also help provide ideas, connections and support for getting involved.
Resources
External LinkNational Apprenticeship Week
External LinkOklahoma Career Expo Week
External LinkOklahoma Career Expo Week Event Planning Guide