As chairman and president of the First National Bank of Omaha, Clark Lauritzen leads a financial institution that opened its doors to customers a decade before the Territory of Nebraska became the country's 37th state.
"Founded in 1857, we are a privately owned, family business, and I represent the sixth generation in our family to lead the bank," said Lauritzen, who this year began service on the Omaha Branch Board of Directors.
Established by brothers Herman and Augustus Kountze during what the company's official history describes as a "rough and tumble" era of business pioneers, First National Bank of Omaha (FNBO) has operated with a forward-looking view. For example, it was among the first banks in the United States to issue credit cards.
"Our vision is to be a top-performing bank for our customers, employees, communities and shareholders," Lauritzen said. "We are headquartered in Omaha, with branches in eight surrounding states. We have a national credit card business focused primarily on issuing cards for other companies to drive their customer loyalty programs. Also, we are the fourth-largest agricultural lender in the United States, and we love serving that industry."
Lauritzen holds a bachelor's degree from Princeton University and a master's degree from the Harvard University Business School. Among many civic roles, he serves as treasurer of the Nebraska Game & Parks Foundation and is a member of the STRATCOM Consultation Committee and the Westside Community Schools Foundation Board.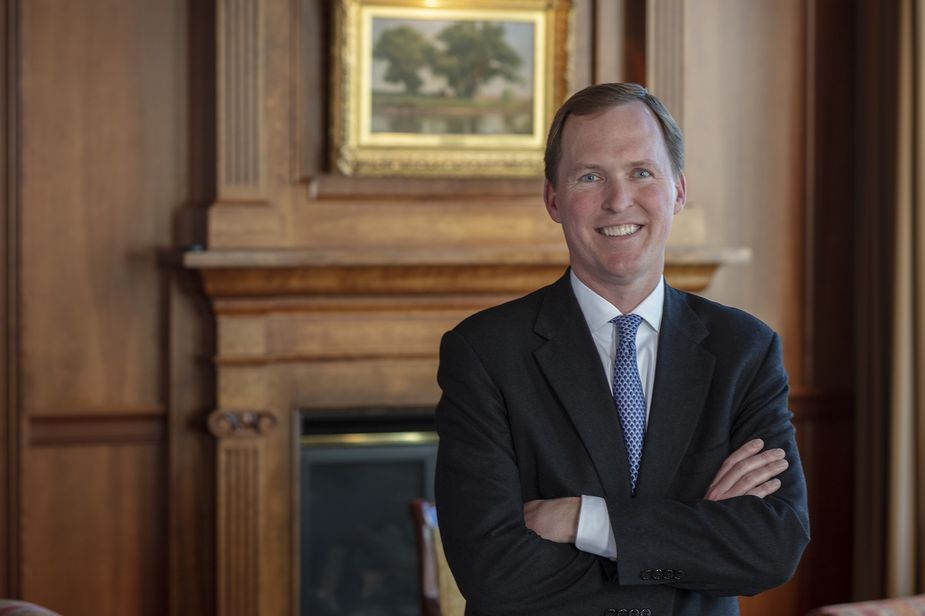 In addition to his family's history of FNBO leadership, Lauritzen has a historical connection to the Federal Reserve. His father, Bruce R. Lauritzen, served on the Omaha Branch Board from 1993 to 1999 and served on the Kansas City Fed's Federal Advisory Council from 2009 to 2010.
"I have been interested in and passionate about banking nearly my entire life, and I have tremendous respect for the important role the Federal Reserve plays in the banking system," Clark Lauritzen said. "I particularly appreciate the way the Federal Reserve thinks and acts in the country's long-term interests when so much of the world seems focused on shorter-term outcomes."
For Lauritzen, opportunities to share what he sees in the marketplace and gain insight from peers are among many appealing aspects of Reserve Bank service.
"Because our bank serves many of the markets across the Tenth District, I think I can represent trends that we see across a variety of industries and communities," he said. "I'm incredibly excited to meet and learn from so many talented fellow directors. I also love learning more about the inner workings of the Federal Reserve System and payments in particular. The Kansas City Fed is a leader within payments, and this is an exciting time for that segment of the economy. I am honored to serve as a Federal Reserve director and to make whatever contribution I can to its mission and to the country."
Learn more about Mr. Lauritzen here.